National Show 2017
Downloads or Information
National Show Venues
Champion Blooms NZ National Camellia Show
National Show Trophys and Past Winners
2017 Registration Form
2017 NZCS Show Schedule


NATIONAL SHOW AND CONVENTION 2017
SHOW
This event will be held in Rotorua from Friday 11 to Saturday 13 August.
The show will be in the Batten Room, Novotel Hotel, Tutauekai Street Lake End, on the Saturday
from 12 midday until 5.00 pm.
Members and non members may enter their entries on the Friday from 4.00 pm until 8.00 pm and
Saturday from 7.00 am until 8.30 am. Judging will be from 9.00 am.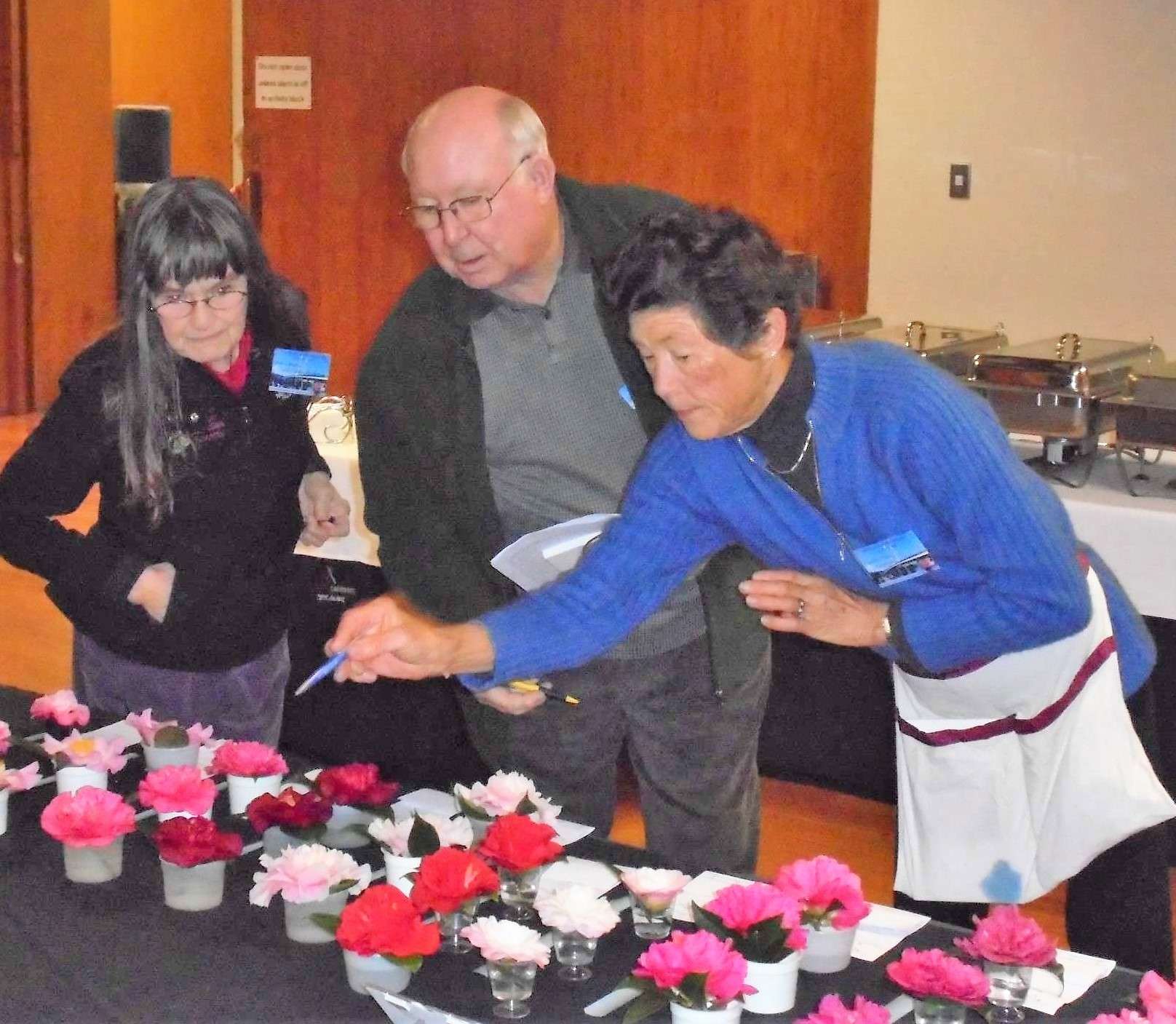 Sharon a visiting Judge from Barton Rouge, USA, with Harvey and Carolyn juding
one of the classes at our 2016 Whangarei Show
Black Magic, the Champion Bloom of the show
Non members and eleigible members may enter in the Novice Classes.
Bring camellias from your garden in their primary colours of white, pink or red, or in groups of three of
either the same or different colours. Name them if you can. You many win a prize.
Stewards will be available to assist you if required.
Margaret Hilford, the Best Novice Bloom at the show
With the Speical classes, enter a decorative basket of camellias suitable for a table, or a planted
camellia in a container,
or an arrangement of camellias and camellia foliage that commemorates our Society's 60th
anniversary
ACCOMMODATION
Ibis hotel, 4 stars, 1109 Raniuru Street Lake End
Room $135 per night plus $21 cooked breakfast or $17 contenental
A limited number of Reduced Mobility rooms are available on the grounbd floor
Ibis Hotel, and one of their rooms
Novotel Hotel,4.5 stars, Tutaeekai Street Lake end
Room $165 per night plus $30 cooked breakfast or $24 contenental
A limited number Reduced Mobility rooms are available on the ground floor.
Both hotels are adjacent to each and have their separate car parks.
All rooms in both hotel have a flat screen TV, a refrigerator, and tea/coffee making facilities
Saturday and Sunday night dinners will be held in the Rutherfod Room, Novotel Hotel
Novotel Hotel, and one of their rooms
RESERVATIONS
Phone 0800 776677, mention NZ National Camellia Show
Email h1874-re1@accor.com, mention NZ National Camellia Show