National Show 2018
This show will be held in the
Quality Hotel Plymouth International, New Plymouth,
12 midday to 5.00 pm Saturday 18 August.
2018 Show Schedule
2018 Registration Form
2018 Gardens to Visit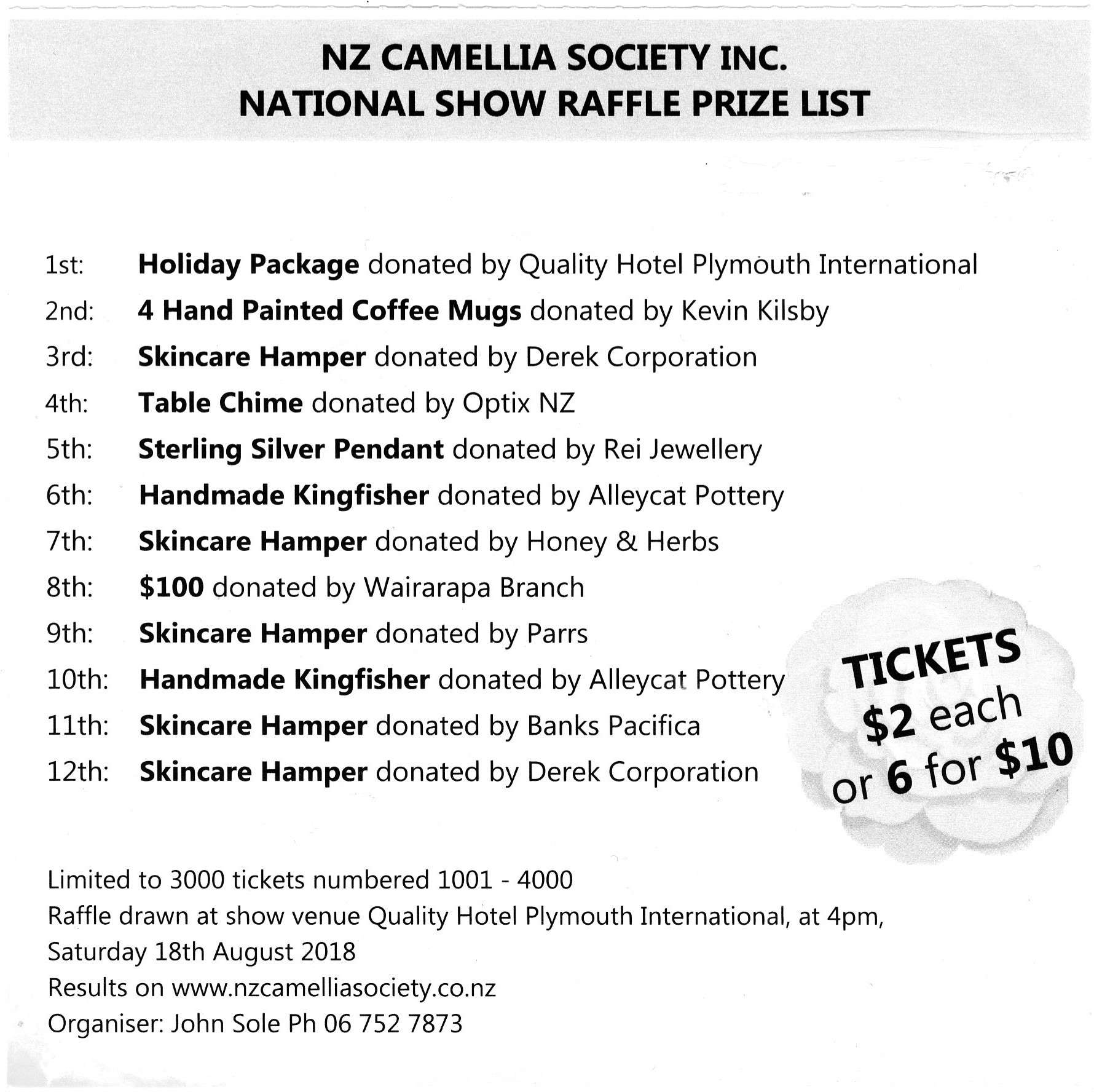 Entering your blooms
There are two classes, Novice and Open. Novice is for both members and non-members. There are six classes for you to enter your blooms. Bring them from your garden and enter them on Friday 17 August between 4.00 pm and 8.00 pm, or on Saturday 18 between 7.00 am and 8.30 am.
There are three classes for individual blooms in their primary colours Red, Pink, or White, of any size, and another class is for a bloom of any colour miniature to small. There are two more classes for three blooms; one is for three blooms medium to large, and the other is for one of any size, variety or colours. You do not have to know the name(s) of your bloom(s) but name them if yoiu can.
There will be a steward available to assist you to enter your blooms. And you could win a prize.
The Show
Will be open to everyone on the Saturday in the Ball Room from 12 midday until 5.00 pm.
The entry fee is a gold coin per person with children free.
It is expected there will be up to 1,000 blooms on display spread over 89.classes. This will result in a sea of colour of varying colours, sizes and species. They will be spectacular and worth viewing.
.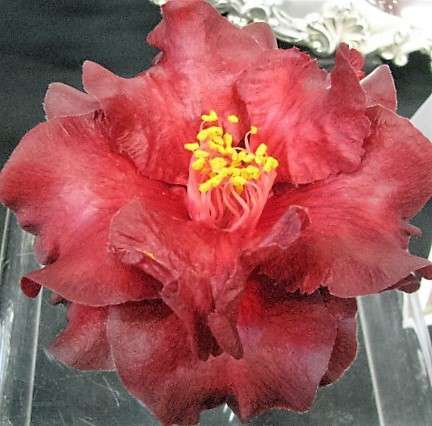 Black Magic - a previous winner
Accommodation
Quality Hotel Plymouth International, 220 Courtenay Street, New Plymouth, phone 0800 800 597
Standard $149.00 per room night
Executive $169.00
King Studio $179.00
Deiux King Studio $189.00
Breakfast (additional cost)
Continental $15 or Cooked $19 per person
National Show 2017
SHOW
This event was special for our Society because it marked our 60th anniversary. The Show was held in the Batten Room in the Novotel Hotel Rotorua on Saturday 12 August from 12 midday until 5.00 pm.. There were 937 blooms of differing sizes, colours and species exhibited in he Open and Novice Classes and they presented an impressive sea of colour against the white table clothes.
In addition, in one Class there were a number of very impressive sprays of minature camellias of different spices, and in a Special Class two attractive decorative baskets suitable for a table, and several well presented arrangements commenorating the Society 60th anniversary.

The Show shortly after it opened showing the Open, Novice and Special Classes
The Top Table with the trophy winners and their blooms
The Champion Bloom of the Show was a magnificent very large pink bloom named Ruta Hagma a Recticulata which was won by Harvey Howard a member of the Marlborough Branch. He is congratulated on a well deserved result. And of interest Howard has previously won the top bloom of the show with the same species three times in the last ten years He is a very passionate grower and exhibitor of camellias, and he freely passes on the knowledge and experience he has gained to others. Howard won another seven trophies or certificates for different blloms in different classes. And these too are very good results, and are well deserved.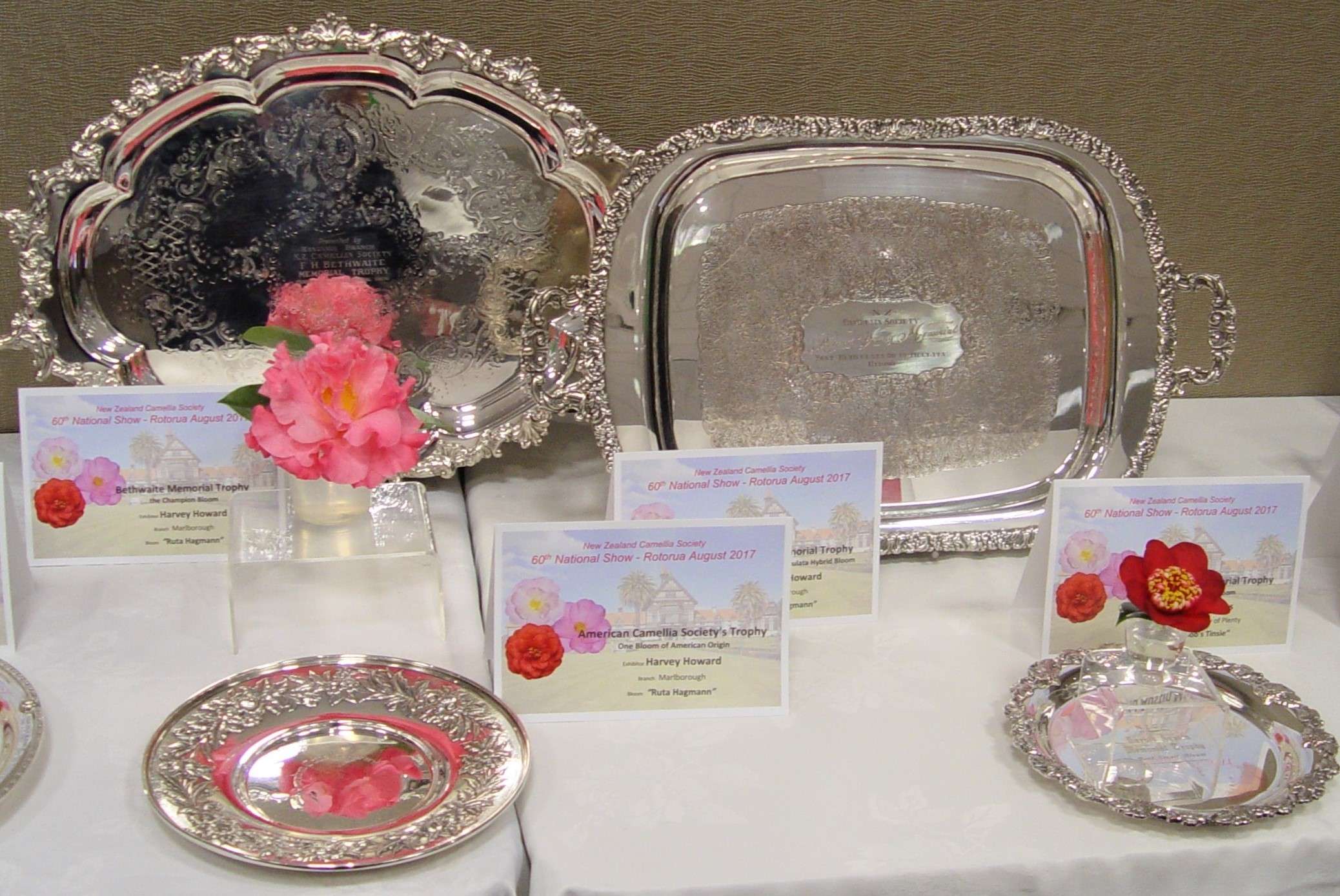 The Champion Bloom (top left) with its trophy the Bethwaite Memorial Trophy. also in fromt the trophy for the Best Amercian bloom, the American Camellia Society's Trophy, and the Best Reticulata bloom the Roland Young Memorial Trophy (top right).
And the Best Small Bloom (bottom right) with its trophy the Harold Austin Memorial Trophy won by Ailsa James from the Western Bay of Plenty. She also won another trophy and certificate for two different blooms. She is congratulated on the very good result.
The Best Novice Bloom was an excellent pink bloom Nicky Crisp which was bred in NZ It was won by David and Sandra Smith from Paraparaumu, and they were presented with the Iris Gittings Tropy for the Best Novice Bloom. They are congratulated on achieving this outstanding result. This was the first time they had entered blooms, and were encouraged to do so by their friend Harvey Howard (Champion Show winner) who had stayed with them on the Thursday night. David selected the blooms from his garden and Harvey entered them in the show on their behalf. They also won a second in the same class as the winning one... .
.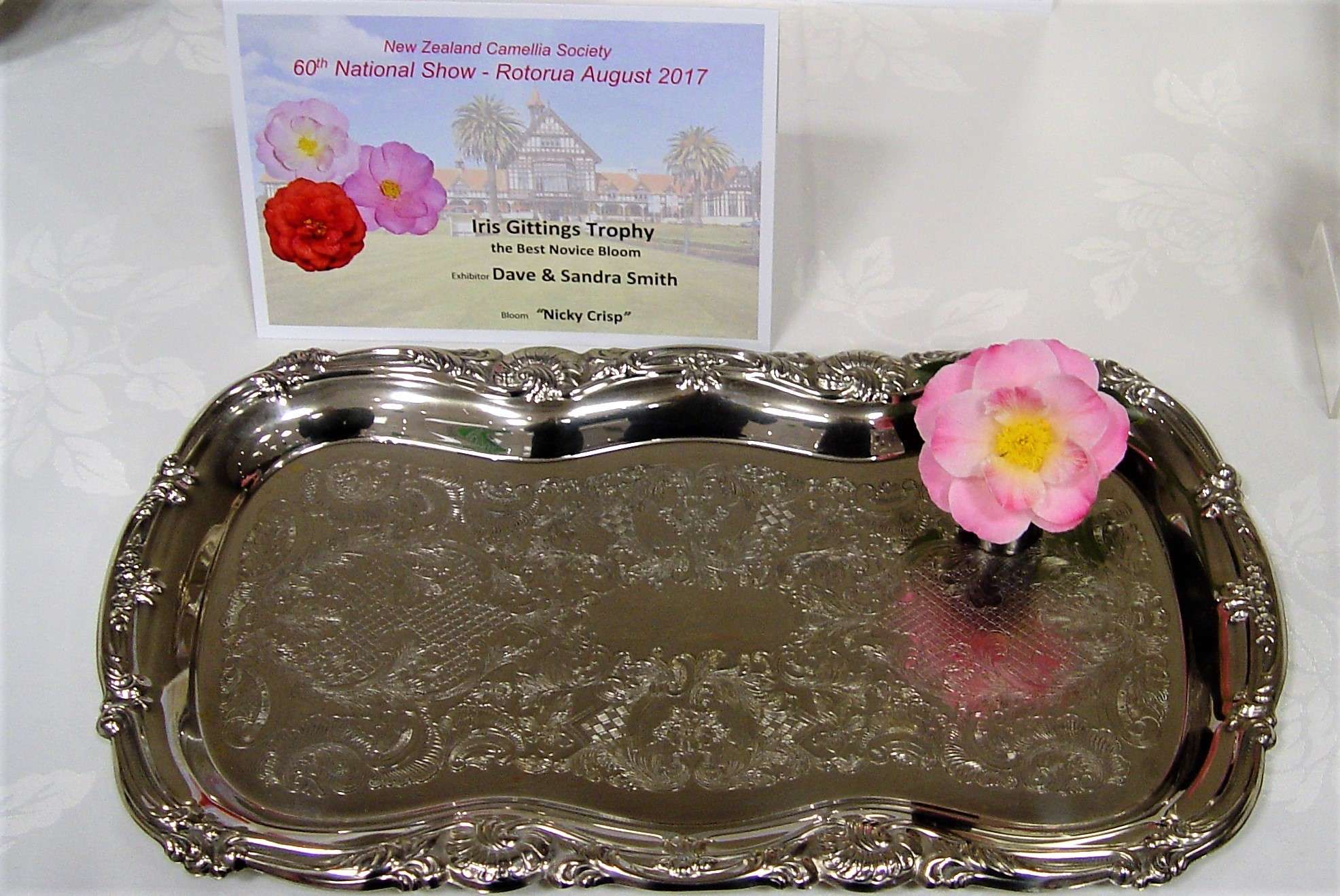 The winning Novice bloom and Trophy
Mayor Steve Chadwick welcomed everyone to the show, and formally opened it. Steve was impressed with the number and quality of the exhibited blooms. Our President presented the Mayor with a NZ bred white Quintessence in an attractivce pot.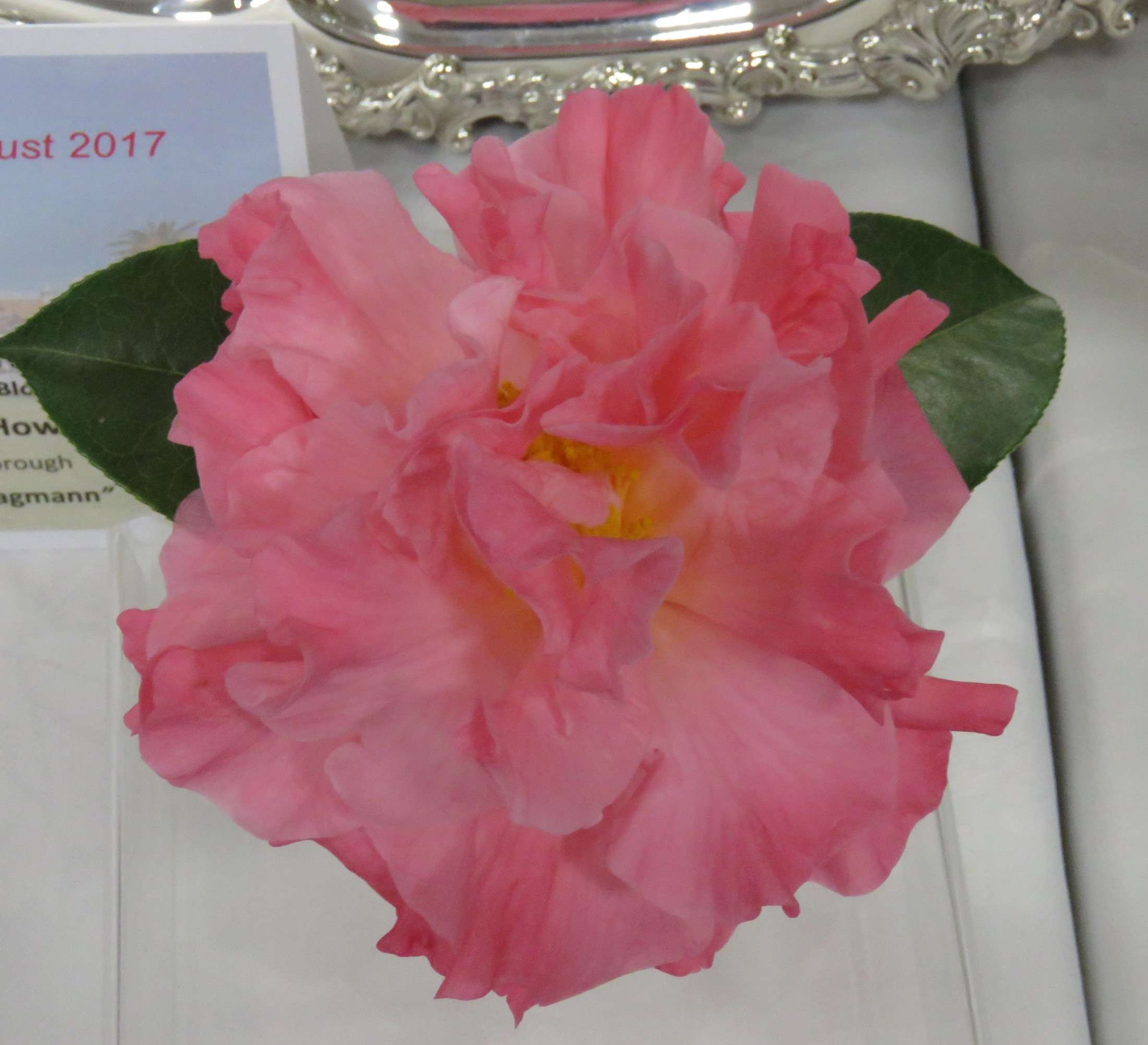 Reticulata Ruta Hagman. Champion Bloom
Other blooms from the honours table.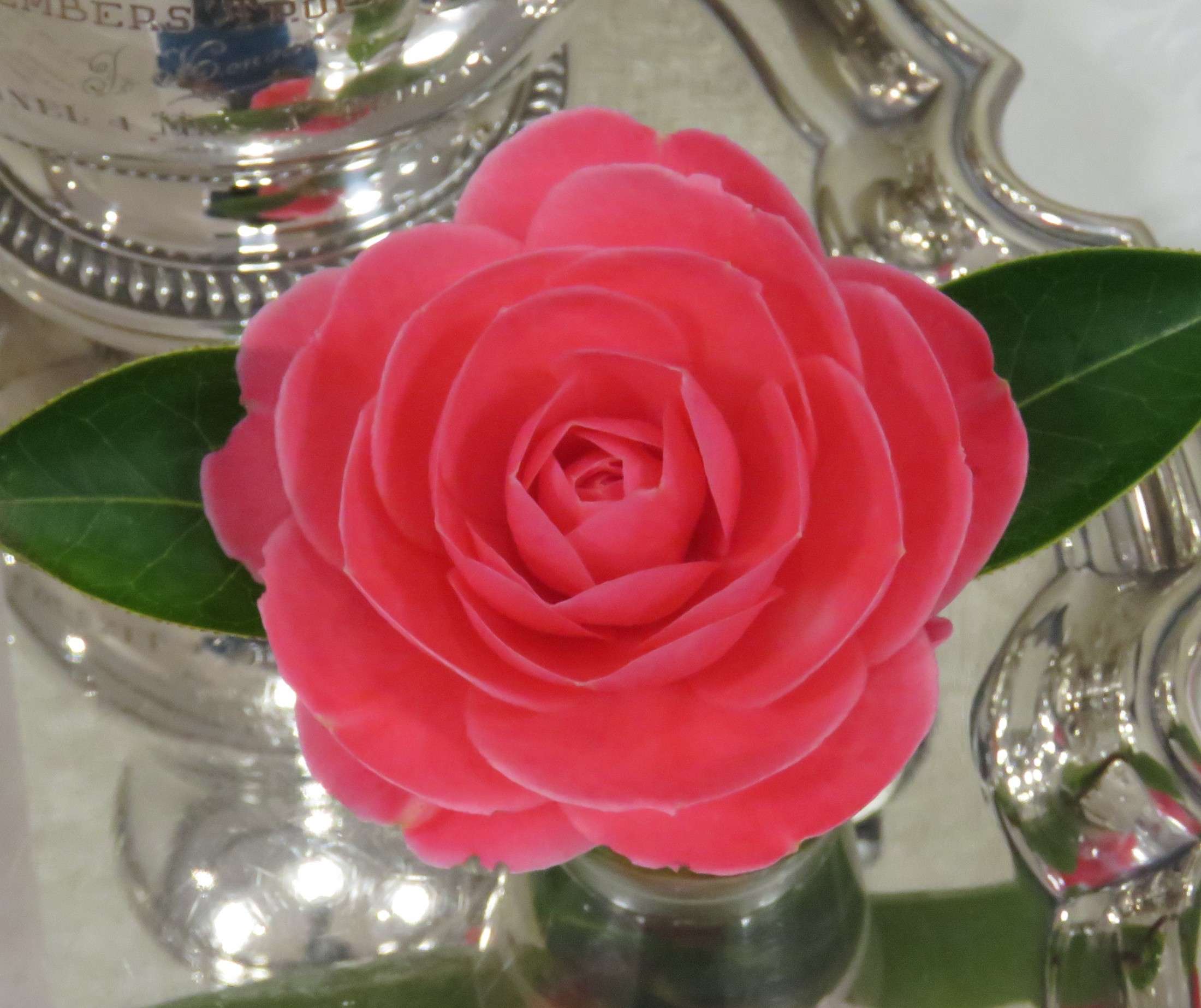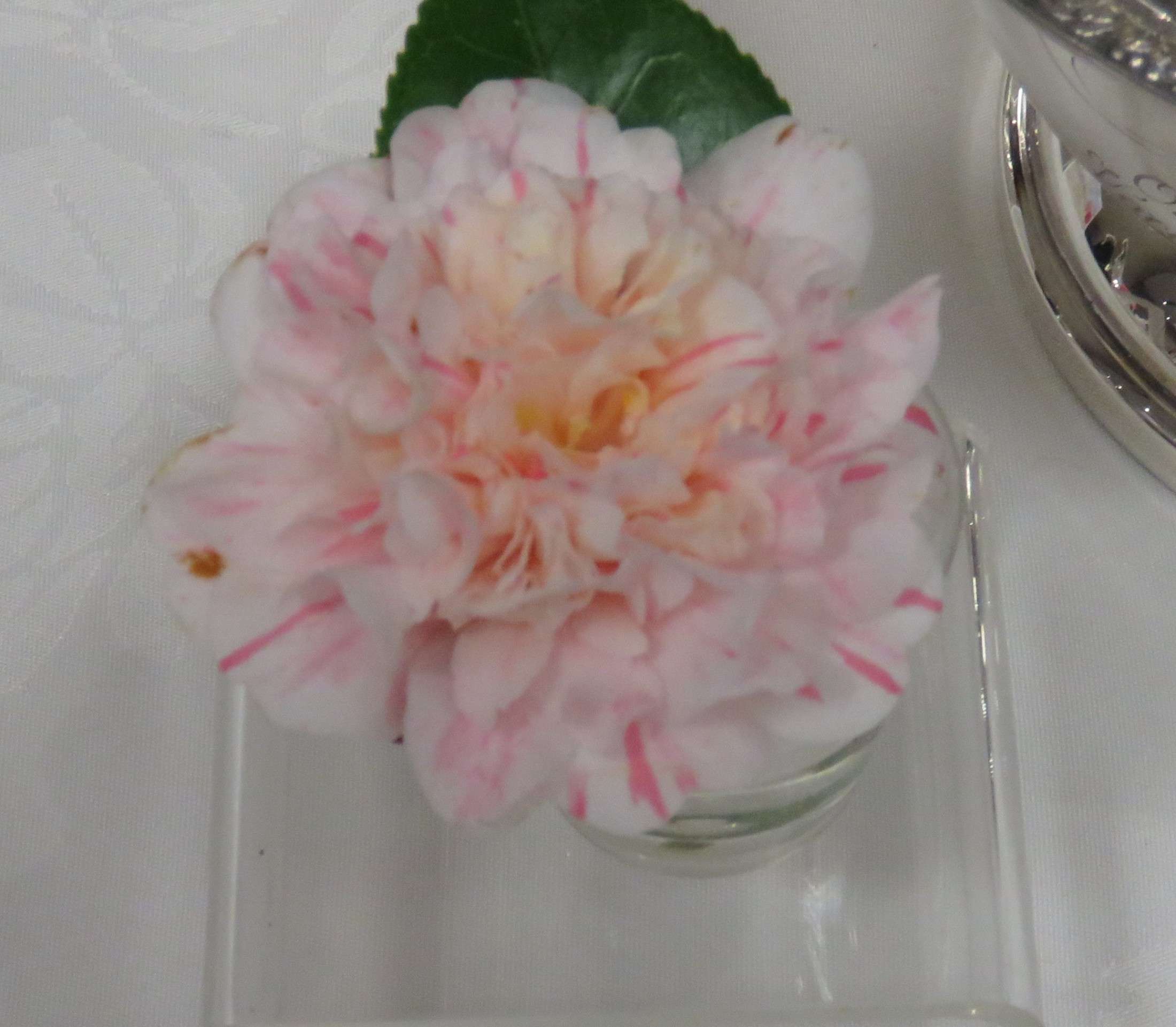 R Chrysanthemum Petal J Thompsonii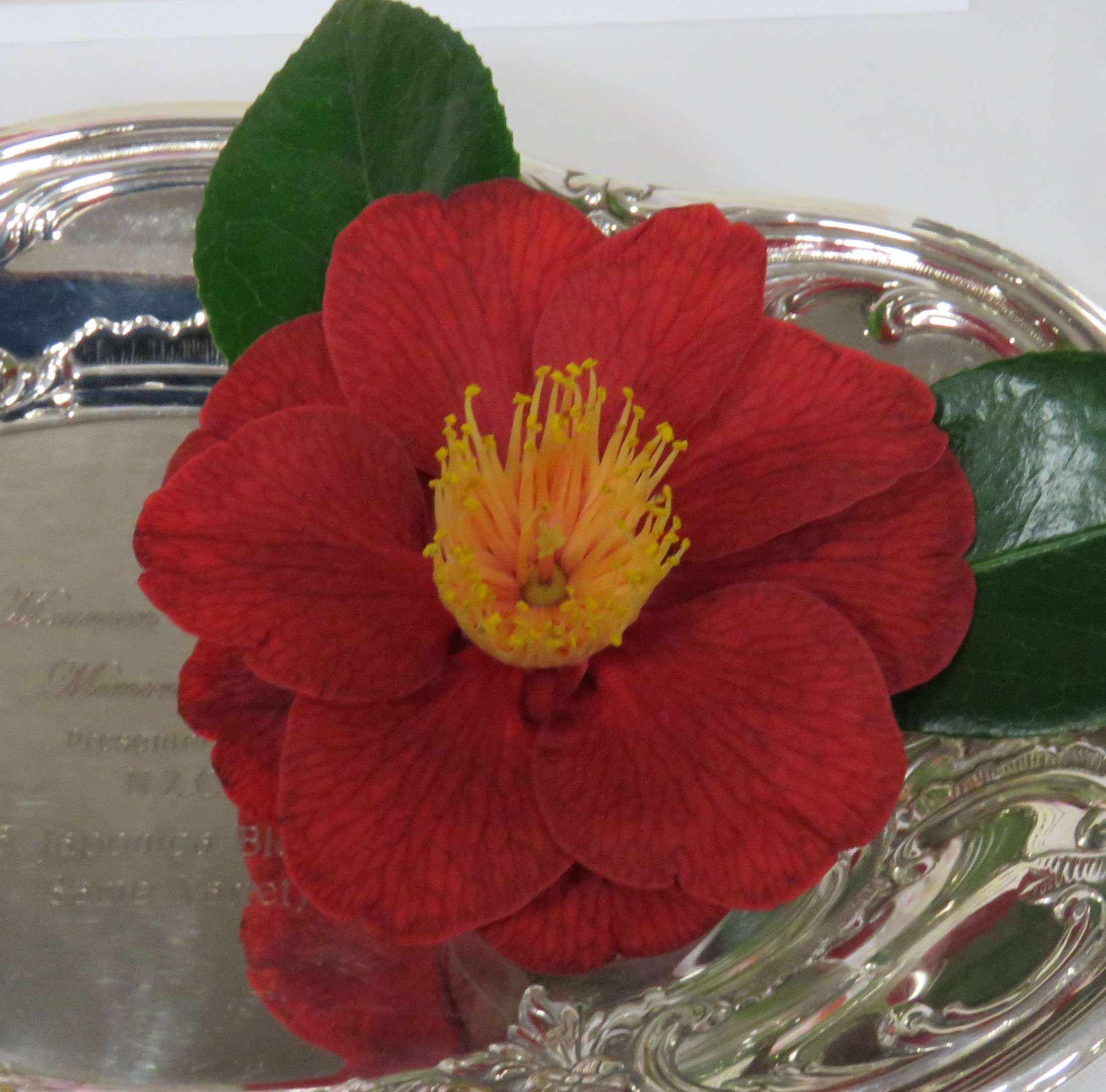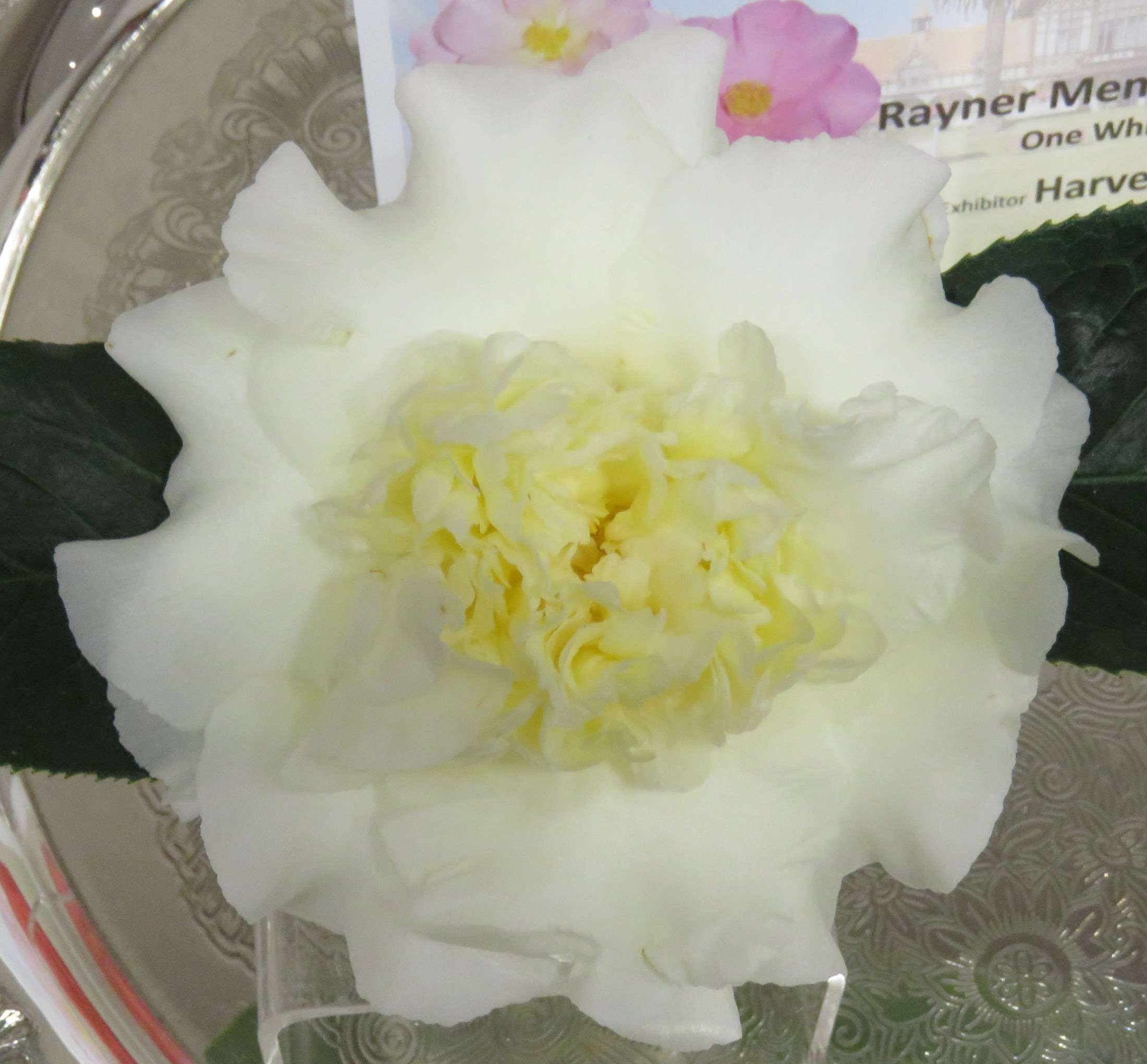 J San Dimas J Elegans Champagne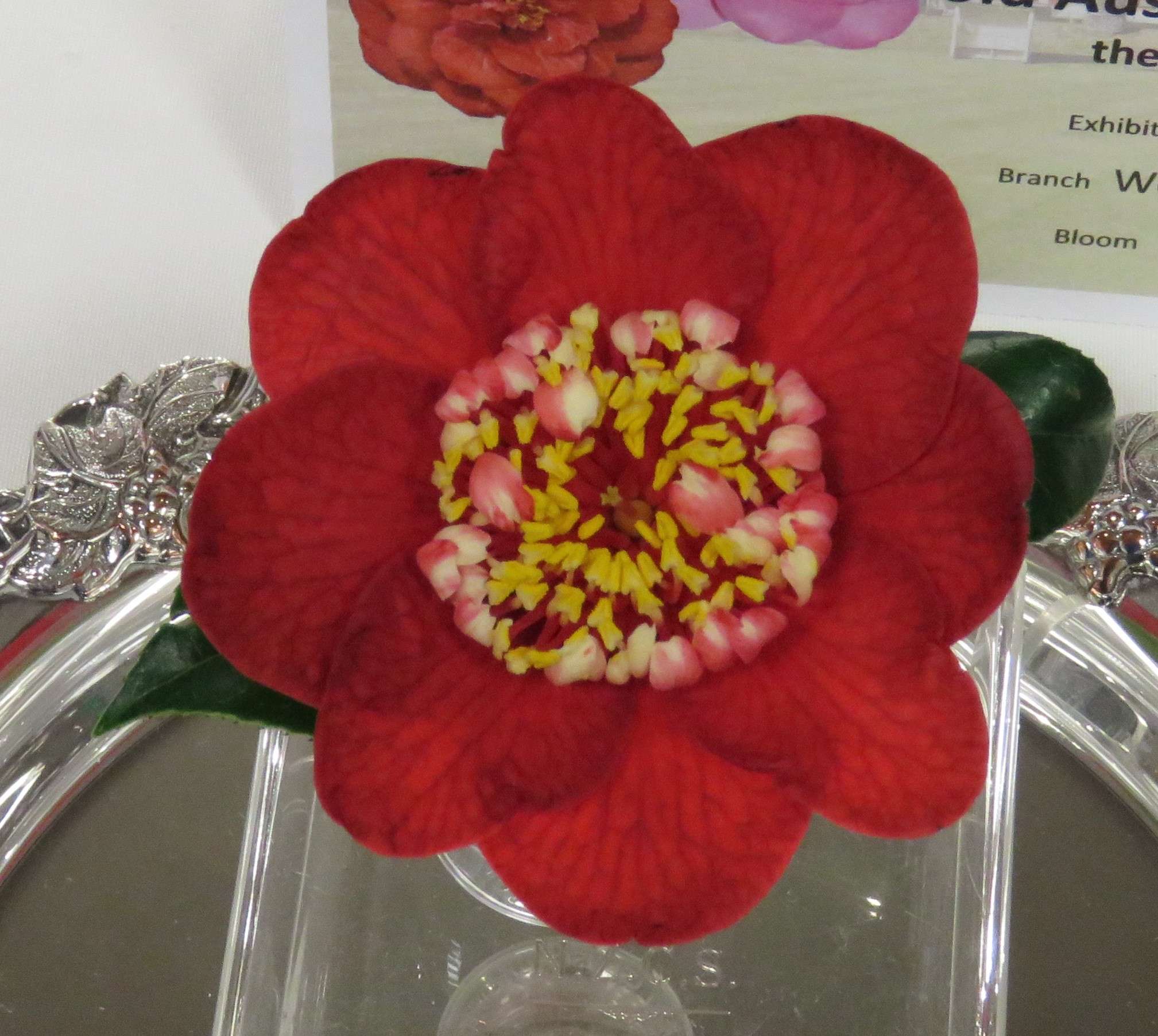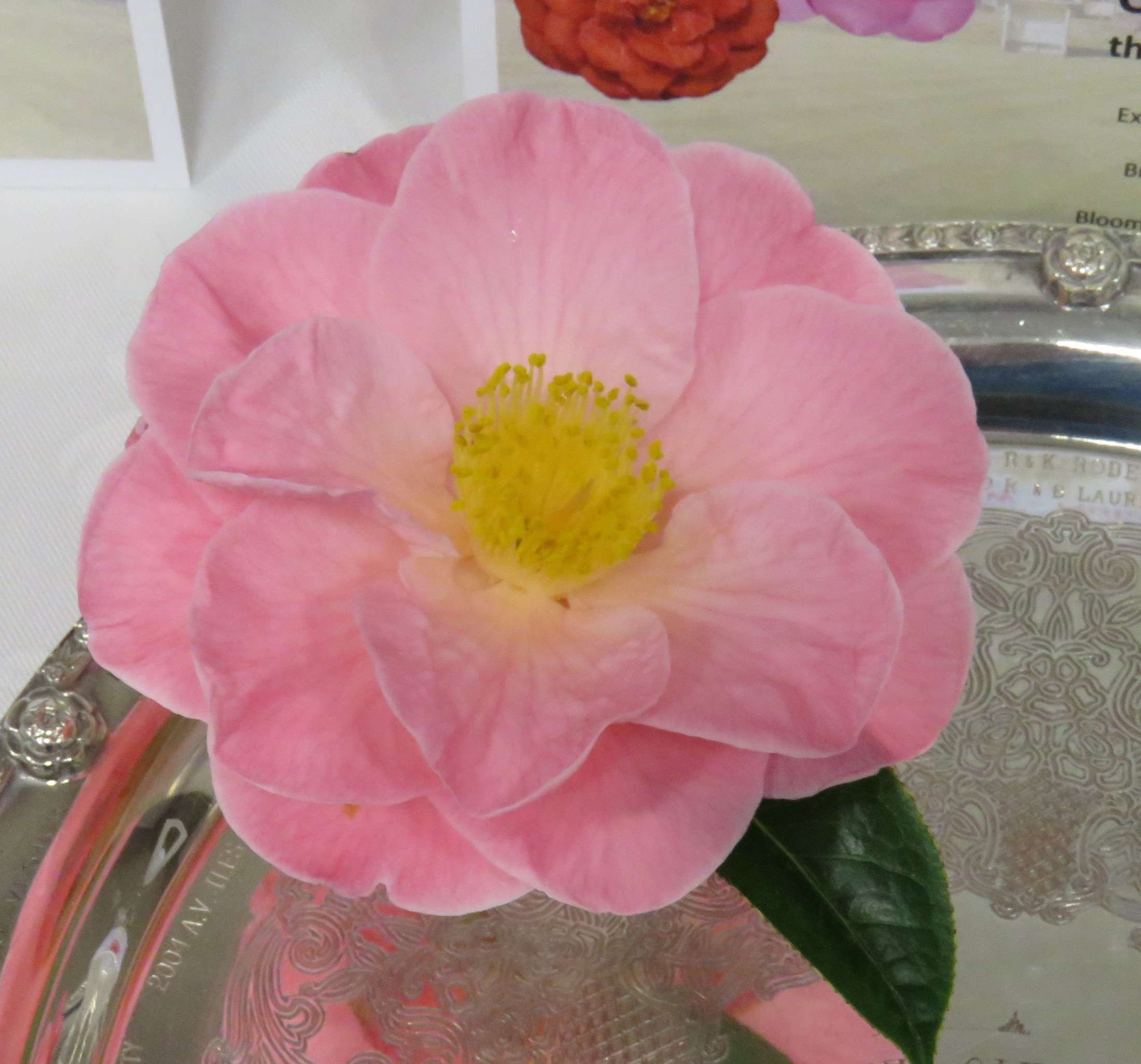 J Bob's Tinsie H Peggy Burton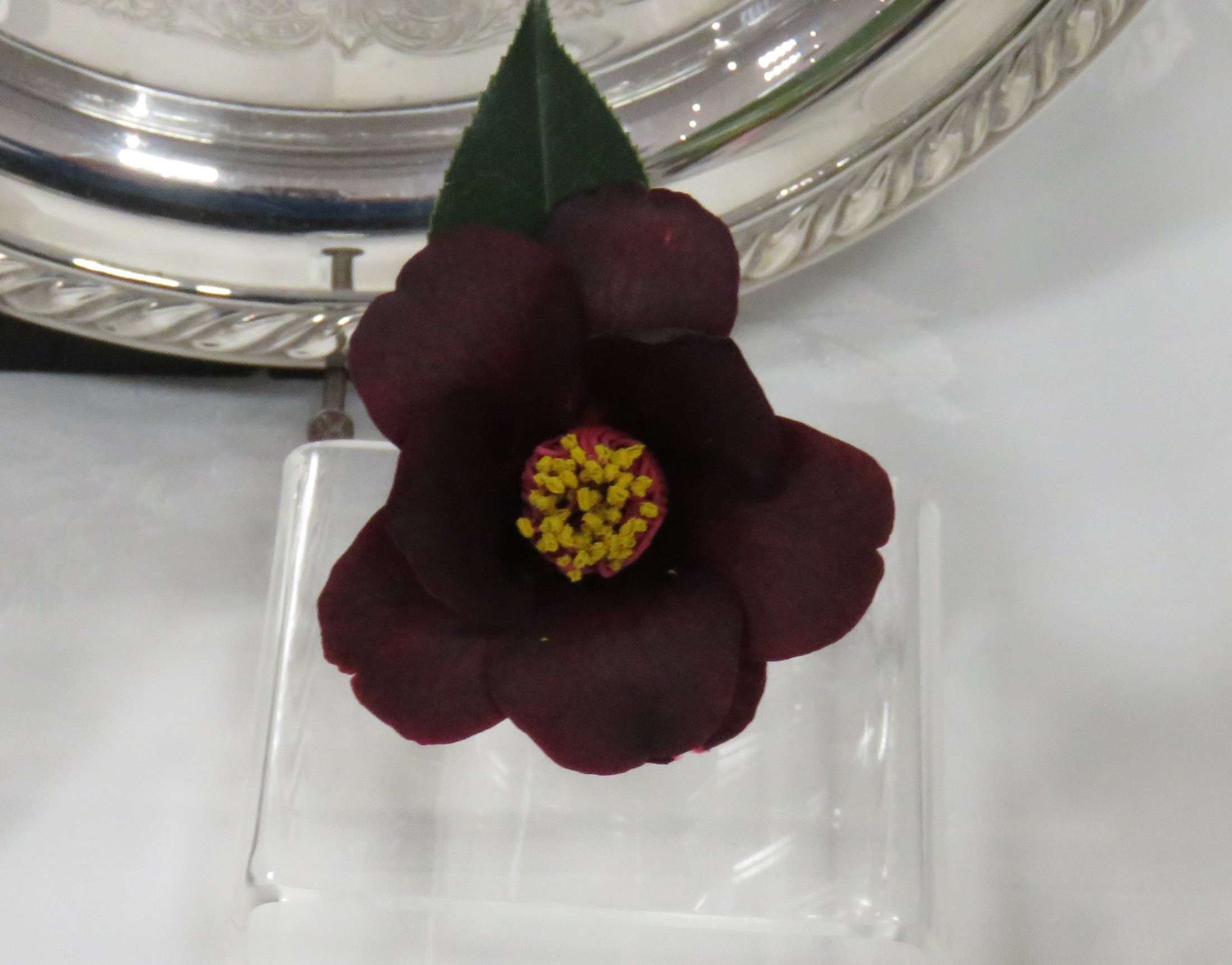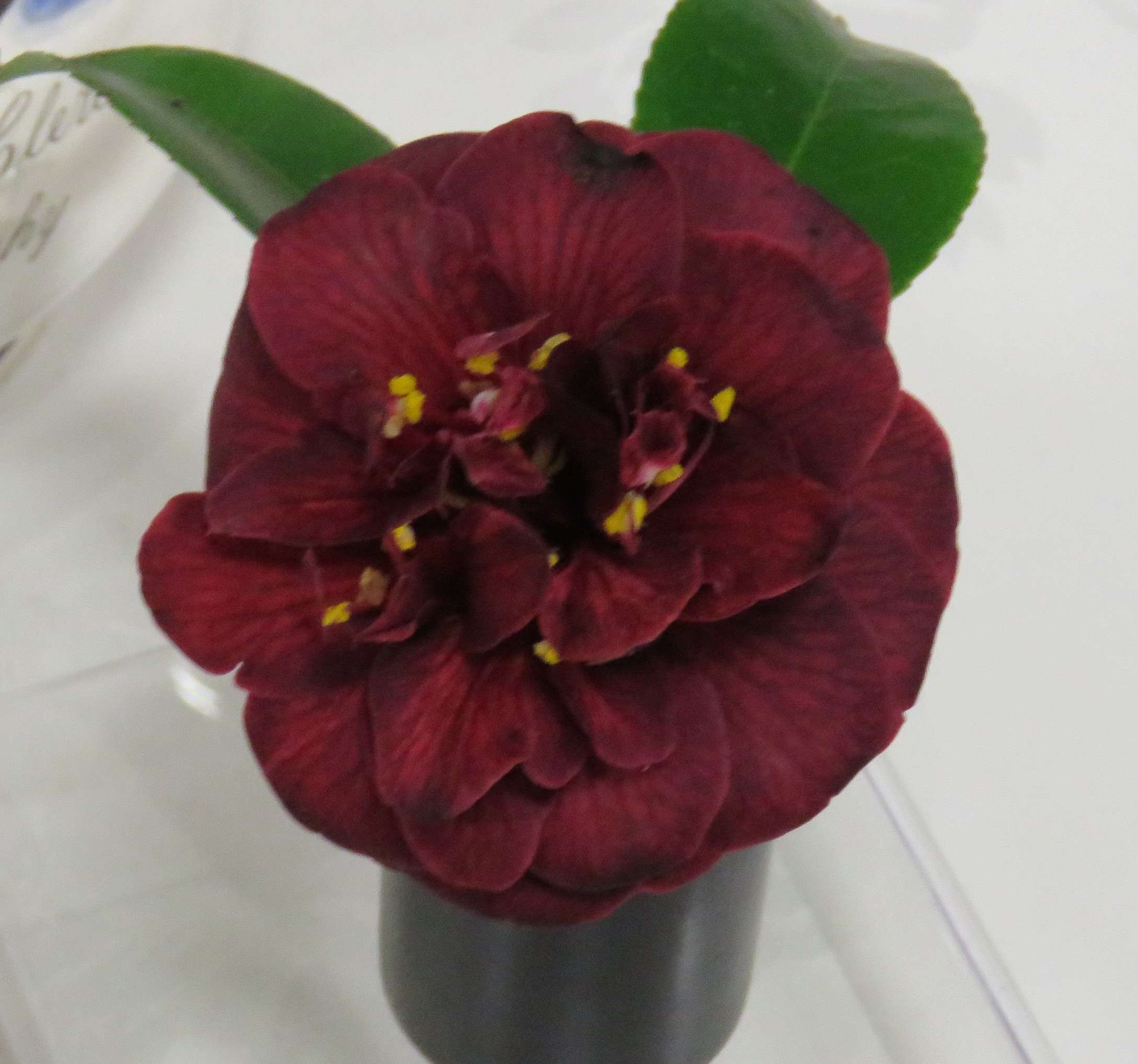 H Black Opal J Burgundy Gem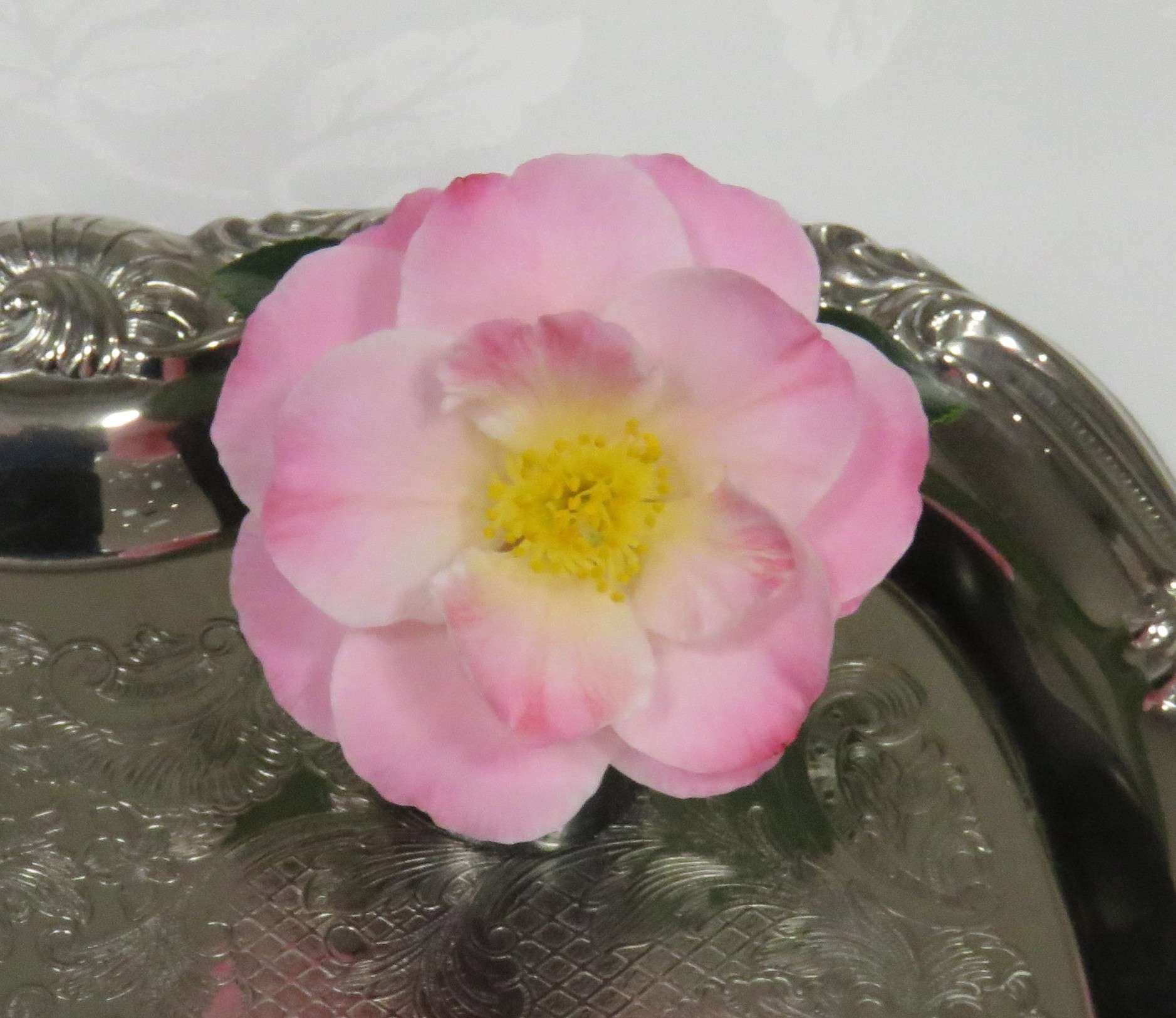 H Spring Daze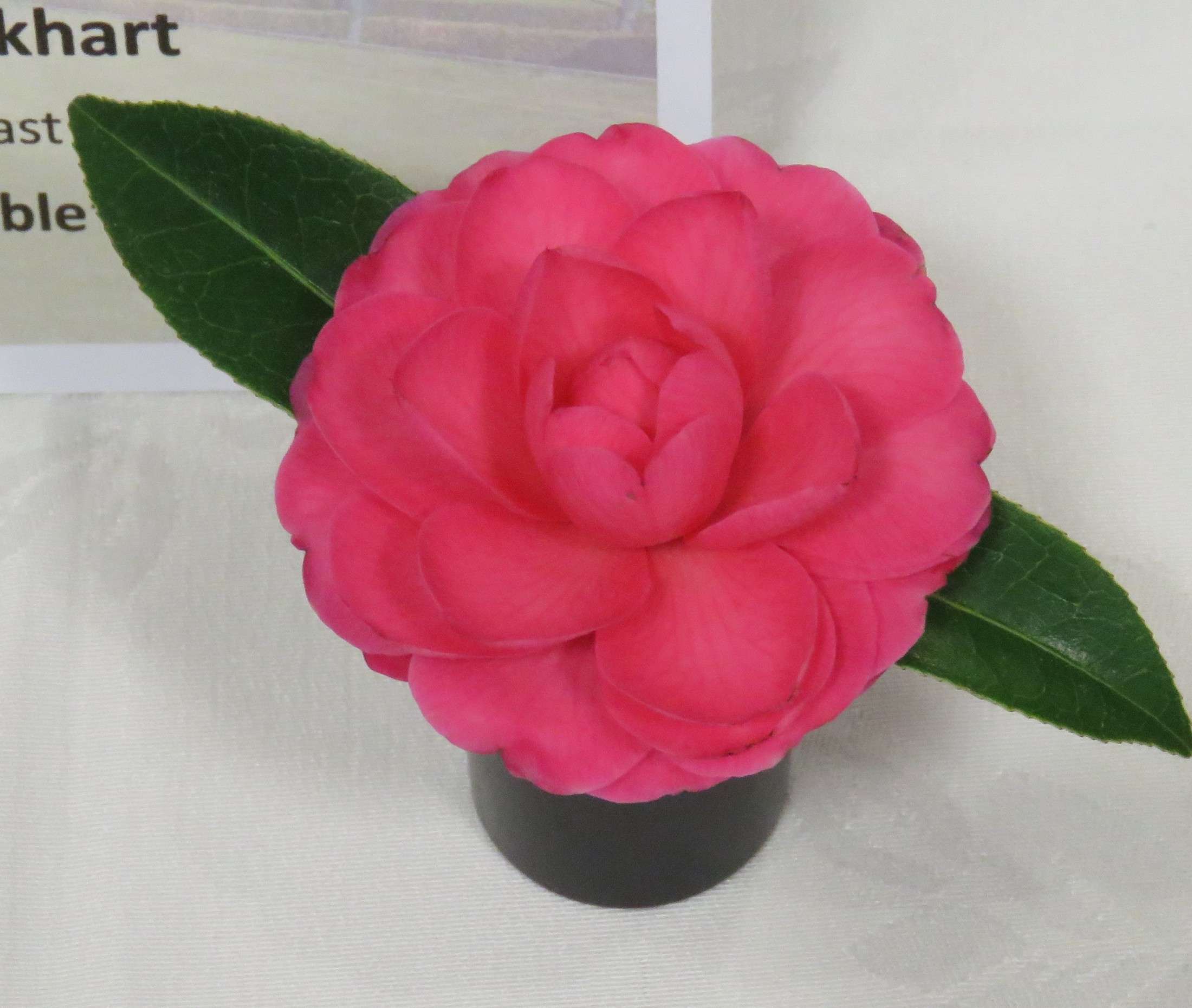 H Adorable