The 2021 New Zealand National Camellia Show and Convention will be held in Tauranga from Friday 13 to Monday 16 August
The Show will be held in the Hotel Armitage on Saturday 14 August in the Washington Room
Come along between 12.00pm and 4.30pm and see the exhibited Camellias mainly from throughout the North Island in all of their glory, with their different colours, shapes and sizes, and varieties. It will be a sea of colour. We are expecting over 800 blooms to be exhibited. The outstanding blooms will be awarded trophies and they will be on display our top table.
The entry fee is by donation. This will go toward the costs associated with running the show
Entering Blooms in the show
If you have camellias in your garden bring them along in their three primary colours of red, pink and white, and/or three blooms of any colour, size and variety, and enter them in the Novice Class. One of our members will be there to assist you to exhibit them. All blooms will be judged. You may win a prize.

The Washington Room will be open for you to enter your blooms on Friday 13 August from 4.00pm to 8.00pm and Saturday from 7.00am to 8.30am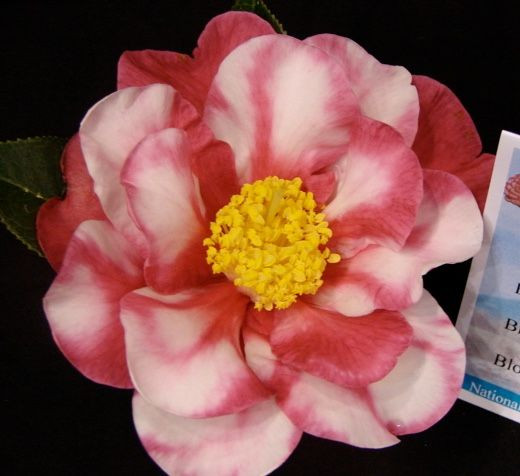 Reticulata Frank Houser Variegated

National Show Venues
Champion Blooms NZ National Camellia Show
National Show Trophies and Past Winners