NZ Camellia Society
WHANGANUI 2019 NATIONAL SHOW AND CONVENTION
F

riday 23 to Monday 26 August
SHOW
This will be held in the main hall in the Whanganui War Memorial Centre, Queen's Park, 2 Watt Street, which is in the heart of the city.
FRIDAY
The hall will be set up on the Friday morning.
On Friday afternoon between 4.00pm and 8.30pm both members and non members of the Society are invited to bring their blooms along from their garden and enter them in the Novice Class. And also on the Saturday between 7.00am and 8.30am.
Indiviual bloom classes are in their prime colours of white, pink and red, and variegated, and/or in groups of three either in the same colour or in different colours. They can be of any species and they do not have to be named, but name if you can.
Stewards will be available to assist you to enter your blooms. In each class the judges will award first, second and third places, and the best bloom overall will be awarded as the Champion Novice Bloom along with a trophy.
SATURDAY
You may so also enter your blooms on Saturday morning between 7.00am and 8.30am

All classes will be judged between 9.00am and 11,30am including those that are deserving of higher honours.
On Saturday afternoon the show will be opened to members of the public from 12.30pm until 4.45pm. The blooms will present a sea of colours in differing shapes, sizes and species in their different classes.
The show will be officially opened at 1.30pm by the Mayor Hamish McDouall
There will be a "top table" and this will display the Champion Bloom of the Show, the Best Novice Bloom, and those blooms who won their classes along with their trophies. These will be the best blooms. In addition there will be a number of "Honour's Blooms" on display, and these are the ones that didn't quiet make it to the top level.
There will be an entrance fee of $5.00 per person; children are free.
The 2018 Champion Bloom of the 2018 National Show in New Plymouth and the Best Novice Bloom were won by Jenny and Derek Beard from Western Bay of Plenty and Alan Inch of North Taranaki repectively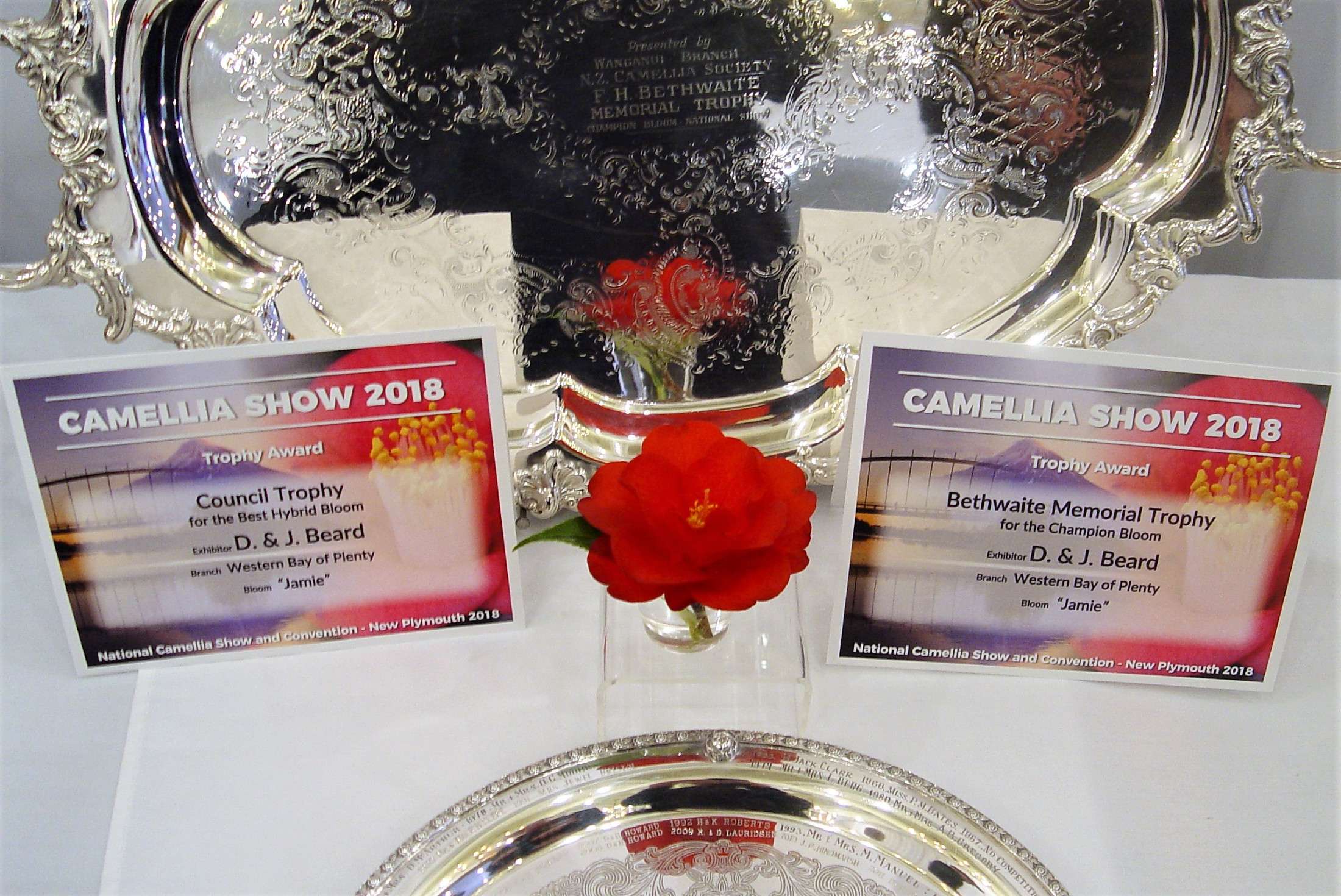 The Champion Bloom of the Show and also the Best Hybrid Bloom with Jamie
Derek and Jenny from Western Bay of Plenty won a total of ten first places in different classes including trophies and certificates, as well as four seconds, and one third. .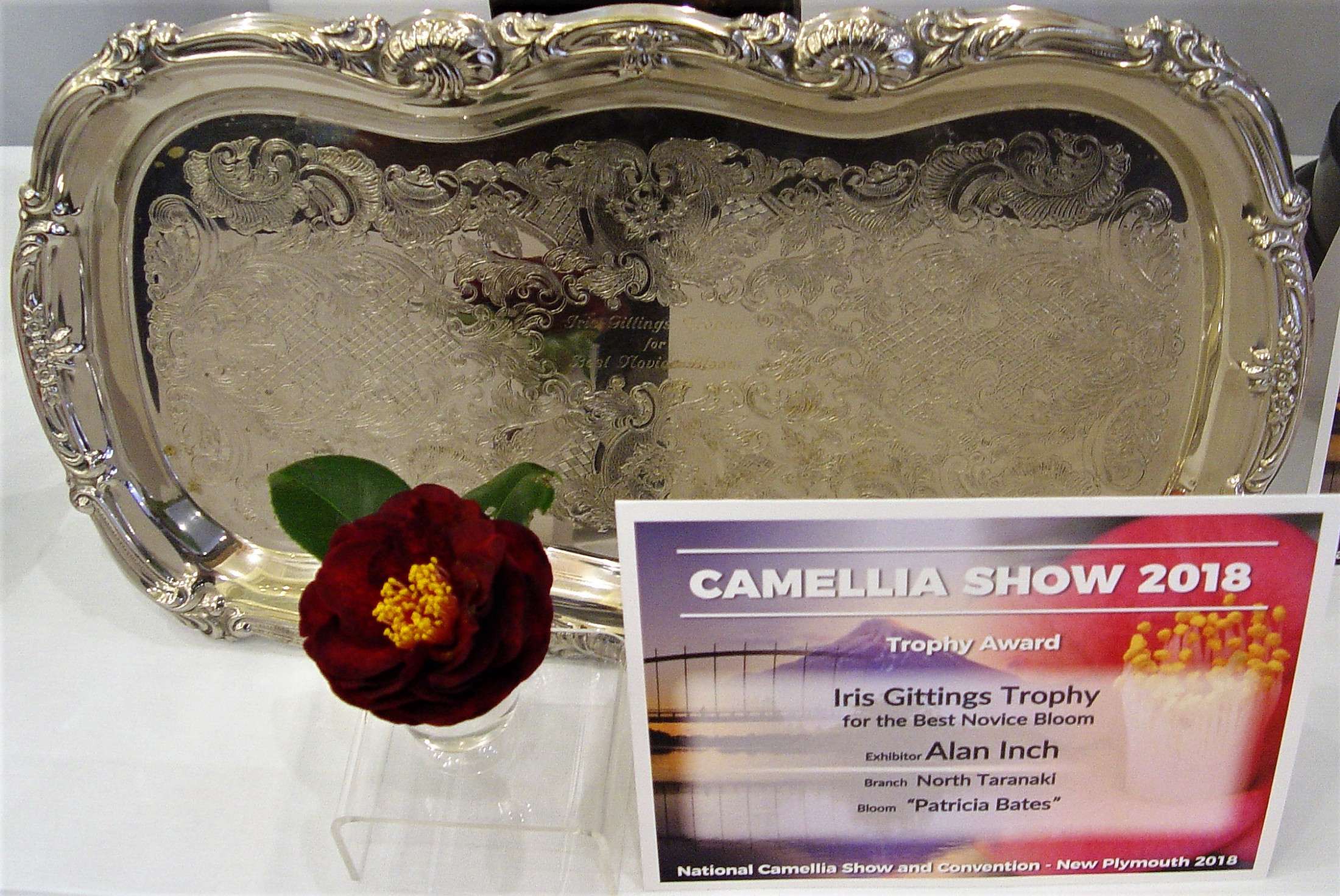 The Best Novice Class Bloom Patrica Bates along with the Trophy and Cerificate
Alan from North Taranki won a total of five firsts, two seconds and a third in different classes in the Novice Classes.
ACCOMMODATION
Quality Inn Collegiate, 122 Liverpool Street, Whanganui
Phone 06 3458 309, [email protected]
When you make contact make sure you say you are part of the Camellia Group.
There are two classes of accomodation on site; economy and quality
1 The EconoLdoge Motel, has 28 rooms at $125 for 1 or 2 people with an additional $20 for each extra person. There are rooms on the ground and first floor with access to the first by stairs. These are economy class.
2 Quality Inn Hotel 27 rooms at $144 for 1 or 2 people with an additional $20 for each extra person. Rooms are on the ground and first floors with a lift available to the first floor. These are quality rooms.
BREAKFAST (at an additional cost)
Friday and Saturday it is either continential at $13.50 per person or cooked at $20.00 and this could vary depending on the order.
Sunday and Monday it is only continential at $13.50 per person.
DINNERS
Both the Saturday and Sunday night dinners will be at the Quality Inn
National Show