Kapiti
President
Paul Bevan
2 Rata Street, Waikanae 5036
Ph 04 293 3555
Email pandmb@xtra.co.nz

Secretary Robyn Dineen
5 Lavina Grove
Waikanae 5036
ph 04 293 3805
Email robynnjohn@hotmail.com


2018 BRANCH PROGRAMME

Please note that all Branch meetings will be on Monday afternoons at 2.00pm at the Presbyterian Church, 43 Ngaio Road, Waikanae. Benching blooms from 1.30pm. Tea and coffee will be provided (gold coin donation appreciated).
Members of the public will be made very welcome. Bring your camellia blooms with you and enter them in the Novice Class. You may win a prize.
August 6 Guest speaker: Calvin Berg - Begonias In-House Competeition: Hybrids and Reticulatas
August 17 -20 National Camellia Show - New Plymouth
August 25 Kapiti's annual Camellia Show 10.30 am until 3.30 pm - Waikanae Community Centre Iformerly Senior Citizen's Hall, 28 Utauta Street
September 3 Guest Speaker - Bob Houston - Life in Waikaanae - the Promised Land. In-House Competition Japonics, Hybrids and Reticulatas
October 1 Guest Speaker - Nick Bennik - Bennicks Poultry, Levin. In-house competetion: Camellias any variety
October 14 Spring Garden Visit (with afternoon tea) to the home of Jean and Gordon Paterson, 9 North Bay, Waikanane between 2.00 pm amd 4.00 pm
November 19 Annual oting - details to be advised
December 3 Annual General Meeting and Christmas Social - 6.30 pm for 7.00 pm - Plateau Centre, Woodlands, Parkwood Retirement Centre, Waikanae

KAPITI'S ANNUAL CAMELLIA SHOW
WAIKANAE COMMUNITY CENTRE (Formerly Senior Citizen's Hall)
28 Utauta Street, just north of the Waikanae Memorial Hall
SATURDAY 25 AUGUST 2018
Bring yoiur blooms from your garden on Friday 24 August and enter them in the Novice class. They can be in their individual colours of white, pink, red, or variegated or in groups of three. You do not have to know their names, but name them if you can. A Steward will be available to assist you. You may win a prize.
ANNUAL SHOW 2017
The show was open from 10.00 am to 3.30 pm. 256 blooms were exhibited in the Open, Novice and Special classes, and they presented a coolurful sea of colour, sizes and species. They were judged on the Friday night and arising out of that the Champion Bloom of the Show,the Champion Novice Blooms and other top blooms were selected out of 29 different classes. Those blooms were exhibited on the Top Table with their Trophies and Certificates.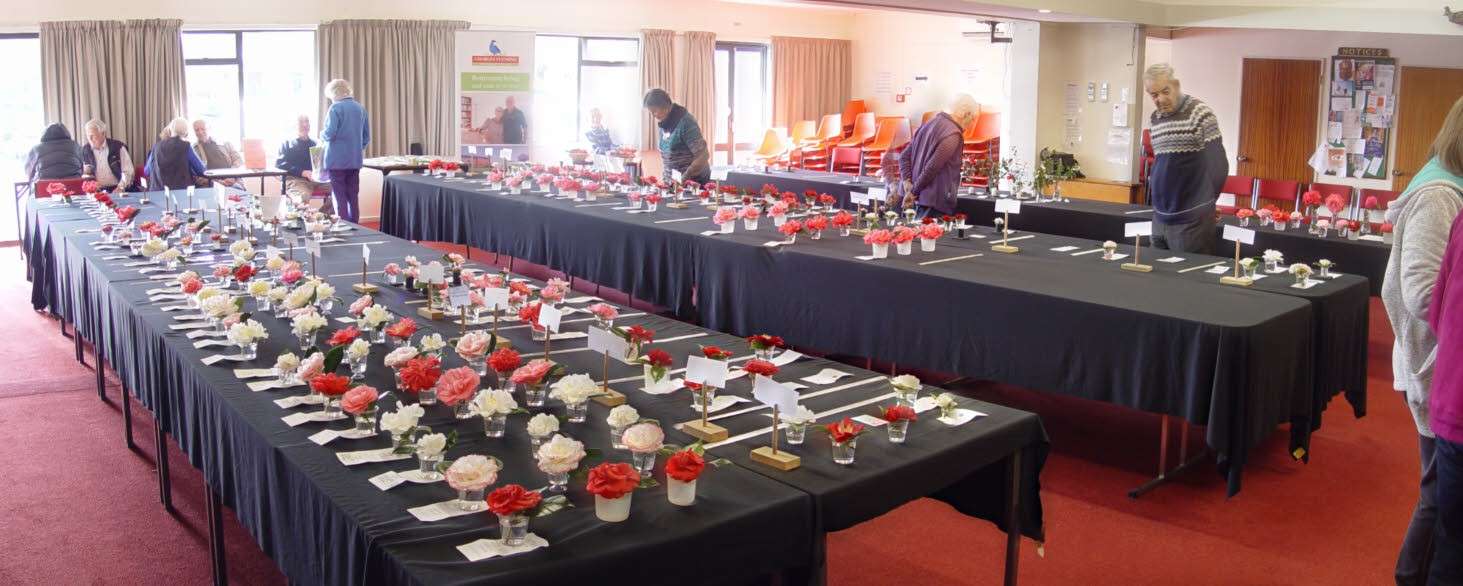 The blooms spread over three rows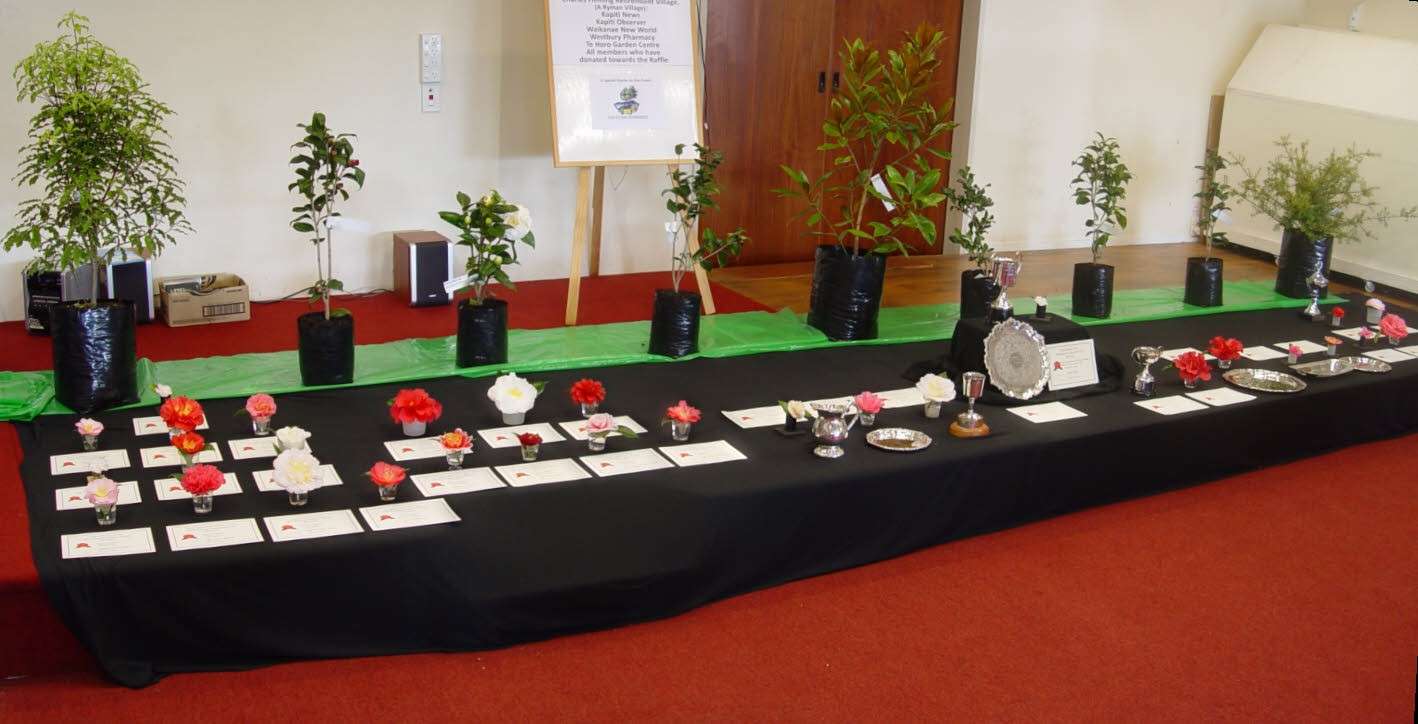 The Top Table with the honours blooms (to the left) and the Trophy winners (right)
The Champion Bloom of the Show was a Hybrid, an oustanding Cinnamon Cnidy, a light pink miniature bloom, won by Helen Guthrie a member of the Kapiti Branch . She was presented with the Kapiti Camellia SocietyCoast Trophy. The bloom was one of three of a kind, and was the only entry entered by her. The bloom also won the Premier Any Partenage Class and was also presented with the The Guthrie Trophy. Helen is congratulated on acheiving those excellent results.
The Champion Bloom of the show
The Champion Novice Class Bloom of the show was a Magnificent Red bloom named Jim Hansen and was won by a member of the public, Ann Goble. She was presented with the Kapiti Coast Camellia Society Trophy. She also won the Best Novice Red Bloom in its class, and received a Society's Certificate. Ann is congratulated on achieving those excellent results.
As a matter of interest the bloom was NZ Registered by Jim Hansen in 1997. Jim was a lomg standing member of our Branch and served on the executive at both the National and Branch levels. He was a patron of our Branch for the past eight years. Sadly he past away earlier this year.
The winning Champion Novice Bloom
In each of the three main species Japonica, Hybrid and Reiculata the Premiser Blooms were selected. In the Japonica the Bloom was Sanpei Tasbaki (right) won by Pam and Brian Hartley, in the Hybrid Gay Baby by Robyn Dineen (centre) and the Reticulata Crimson Robe (left) by Paul and Mary Beavan. They were presented with their trophies and certificates.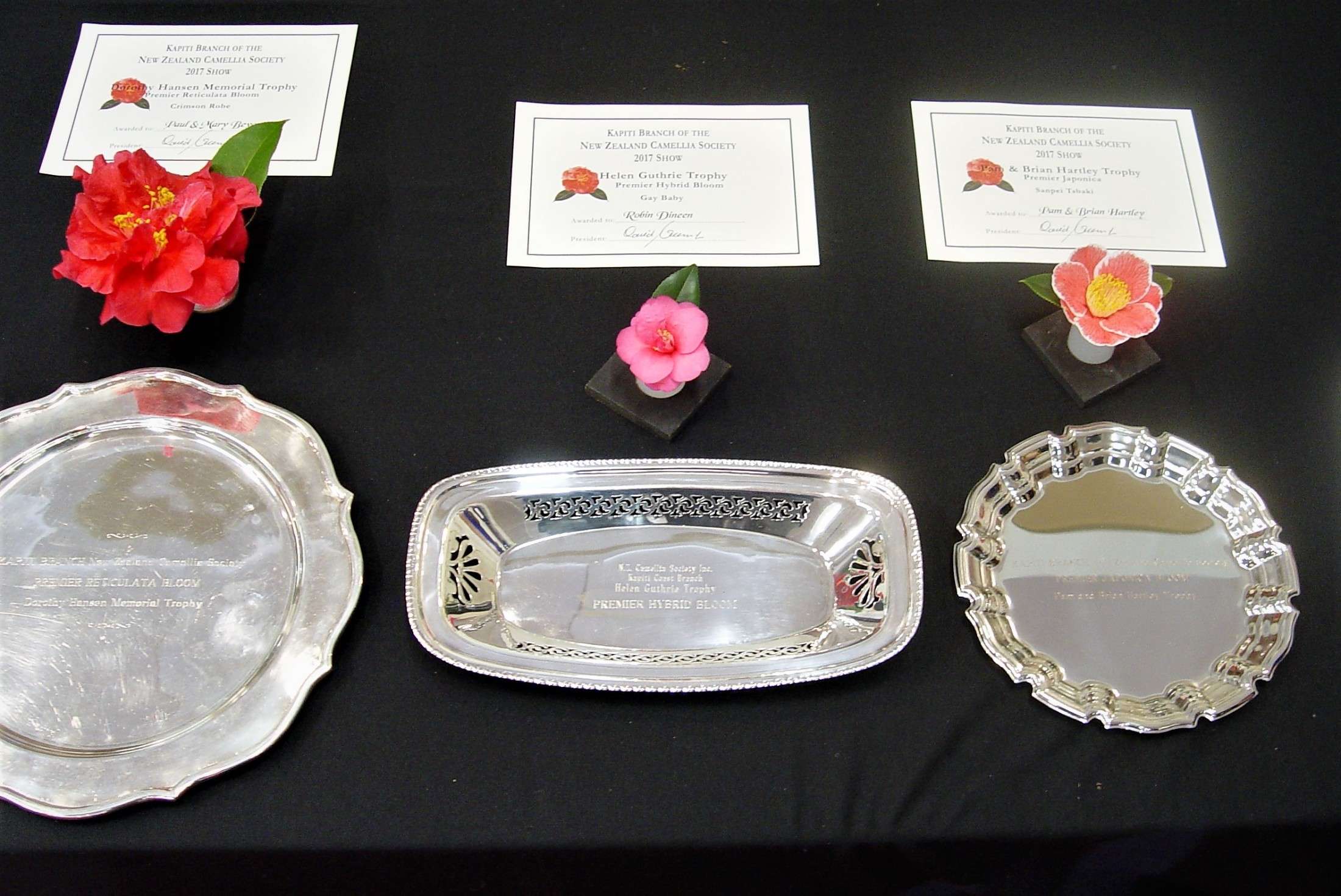 The three wining blooms, their Trophies and Certificates