Kapiti
President
Paul Bevan
2 Rata Street, Waikanae 5036
Ph 04 293 3555
Email pandmb@xtra.co.nz

Secretary Robyn Dineen
5 Lavina Grove
Waikanae 5036
ph 04 293 3805
Email robynnjohn@hotmail.com


2018 BRANCH PROGRAMME

Please note that all Branch meetings will be on Monday afternoons at 2.00pm at the Presbyterian Church, 43 Ngaio Road, Waikanae. Benching blooms from 1.30pm. Tea and coffee will be provided (gold coin donation appreciated).
Members of the public will be made very welcome. Bring your camellia blooms with you and enter them in the Novice Class. You may win a prize.
August 25 Kapiti's annual Camellia Show 10.30 am until 3.30 pm - Waikanae Community Centre Iformerly Senior Citizen's Hall, 28 Utauta Street
September 3 Guest Speaker - Bob Houston - Life in Waikaanae - the Promised Land. In-House Competition Japonics, Hybrids and Reticulatas
October 1 Guest Speaker - Nick Bennik - Bennicks Poultry, Levin. In-house competetion: Camellias any variety
October 14 Spring Garden Visit (with afternoon tea) to the home of Jean and Gordon Paterson, 9 North Bay, Waikanane between 2.00 pm amd 4.00 pm
November 19 Annual oting - details to be advised
December 3 Annual General Meeting and Christmas Social - 6.30 pm for 7.00 pm - Plateau Centre, Woodlands, Parkwood Retirement Centre, Waikanae

ANNUAL SHOW
WAIKANANE COMMUNITY CENTRE
SATURDAY 25 AUGUST 2018
The show was open from 10.30 am to 3.30 pm on a fine and sunny day. The blooms on display were of different colours, sizes, species, in different classes, and most were in good condition. There were two general classes Open and Novice and just over two hundred were in the Open Class. The trophy and the top certificate winners along with their outstanding blooms were displayed on the "Top Table". The awards were presented by our Branch President Paul Bevan.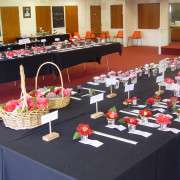 The blooms in all their splendor across four rows

The Top Table displaying the outstanding blooms of the show along with their trophies and certificates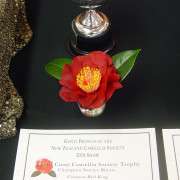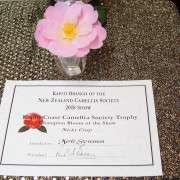 The Bloom of the Show, an outstanding Nicky Crisp, The Champion Bloom in the Novice class a Red was won by Merle Stevenson, along with its winning (Crimsdon Red King) was won by Premier Certificate in its Class Margaret Monks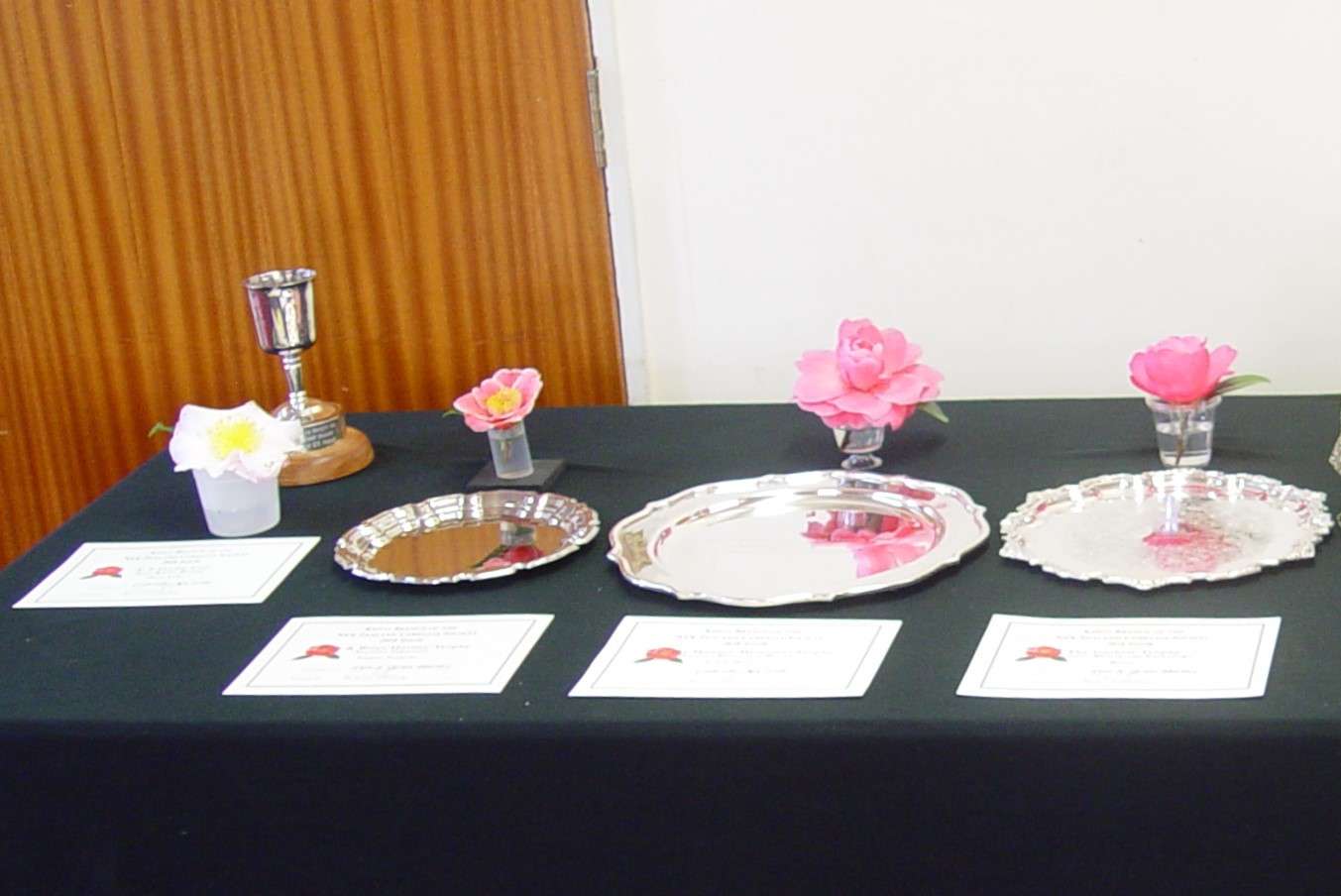 Showing the Best white bloom won by Gabrielle McCardle with Shira Yuki , and three of the Premier Blooms in their class won by Pam and Brian Hartley, with Sanpei Tsubaki, Gabrielle McCardle with Edith Mazzei, and and Pam and Brian Hartley, with Brian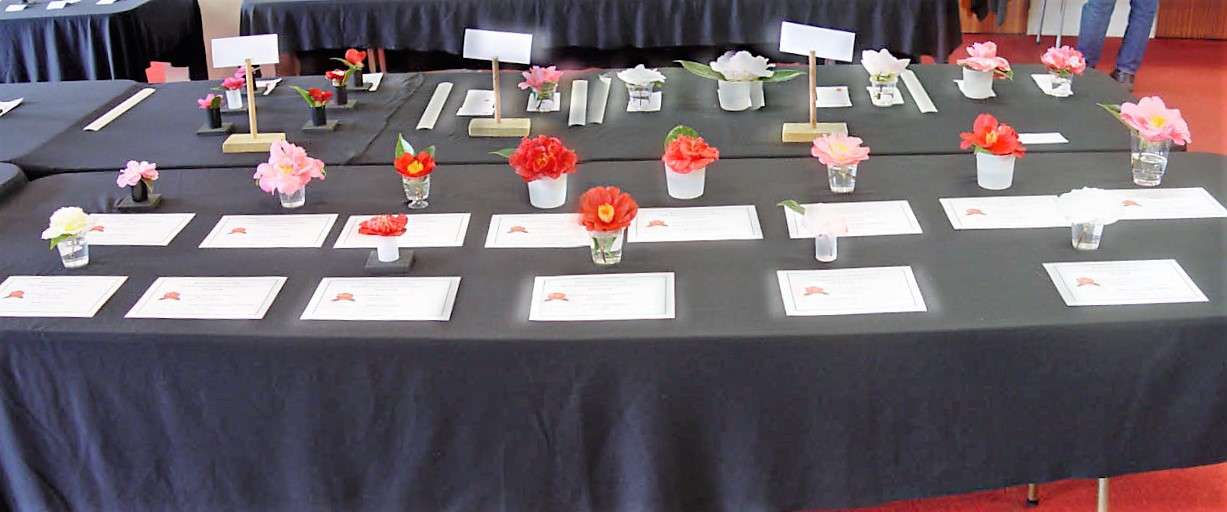 The Honours Bloom Table displaying those blooms along with their Certificates from both the Open and Novice Classes which were considered for higher awards, but did not quite make it