KAPITI BRAH
KAPITI BRANCH
2020 NATIONAL CAMELLIA SHOW WAIKANAE
Kapiti's estuary leading to the sea and beyond to Kapiti Island
SHOW SATURDAY 22 AUGUST
The Kapiti Branch is hosting the National Camellia Show on 22 August 2020 in the Waikanae War Memorial Hall, 3-5 Pehi Kupa Street, just over the railway lines to the east, and the first street to the left.
The show will open at 12.30 pm and close at 4.45 pm. Everyone is encouraged to visit the show to see up to 1,000 camellias exhibited in their different species, colours, and sizes. All the blooms will be judged on Saturday morning and the Premier Blooms will be on display on the "Top Table' including the Champion Bloom of the Show and the Champion Novice Bloom. The latter two awards will be the two outstanding blooms of the show.
Members of the public are invited to enter blooms from their garden in the Novice Class on Friday between 4.00 pm and 8.00 pm or Saturday morning between 7.00 am and 8.30 am. Those blooms should be, white, pink, red, or variegated, and/or three of a kind or three different. Assistance will be available to help you enter your blooms. You may win a prize.
Please pencil the dates in your diary or device
For further information please view the National Show web page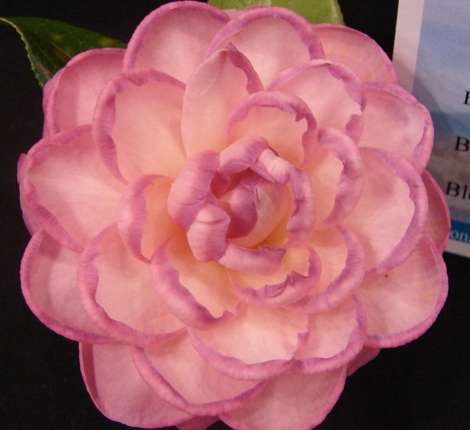 A well-formed Hybrid, Dreamboat
BRANCH EXECUTIVE
President
Paul Bevan
2 Rata Street, Waikanae 5036
Ph 04 293 3555
Email [email protected]

Secretary Lesley Gillespie
39 Kohekohe Road
Waikanae 5036
ph 021 960 294
Email [email protected]
2019 BRANCH PROGRAMME
I

NTRODUCTION
All Branch meetings will be on Monday afternoons at 2.00 pm at the Presbyterian Church, 43 Ngaio Road, Waikanae unless otherwise stated. For those at Ngaio Road, in-house matters will be dealt with first followed by tea or coffee (gold coin donation appreciated) usually around 2.30 pm. Our guest speaker should commence by 3.00 pm and be finished by 4.00 pm.
Each meeting will have in-house Camellia competitions of any variety.. Non-members are cordially invited to bring your blooms of any variety from your garden in the colours of white, pink, red, and variegated, and three of the same or three different blooms, and enter them in the Novice Class between 1.30 pm and 2.00 pm. Names are not required but name if you can. A member will be available to assist you. The Classes will be judged and 1st, 2nd, and 3rd places awarded.
If you are not able to bring any blooms, you will still be made very welcome to any of our branch meetings. You will see from the speakers a wide range of subjects is covered. If you have any questions about camellias or other plants bring them along with you. There will also be a sales table and a raffle at each meeting.
PROGRAMME
Saturday August 17 2019 Kapiti Annual Camellia Show
Friday 23 - Monday 26 August 2019 National Show and Convention, Whanganui - view National Show web page
Monday September 2 Guest speaker: Pam Stapleton, "Waikanae Estuary Care Grouast, Present and Future"
In-house competition: Camellia any variety
Monday October 7 Guest Speaker: Glenis Day, "Creating a Spring posy". In-house competition: Camellias any variety
Monday November 11 Day coach trip to visit gardens and other appropriate venues - details to follow
Monday December 2 Annual General Meeting and Christmas Social Plateau Centre, Woodlands, Parkwood Retirement Village, Waikanae
2019 KAPITI ANNUAL CAMELLIA SHOW
SATURDAY 17 AUGUST
WAIKANAE COMMUNITY CENTRE
The show was held on a very Saturday afternoon from 12.30 pm to 3.45 pm. Notwithstanding the rain a large number of our members and members of the public attended. There were many outstanding blooms exhibited by those who entered both in the Novice and Open Classes in their differing colours, shapes, sizes and species. They looked spectacular and presented a sea of colour.
All of the 260 blooms were judged in the morning with awards going to the top blooms in each class along with with the Premier Blooms from which the Champion Bloom of the show and the Best Novice Class were awarded. Those very good blooms that did not make the top table were awarded "Honour's Bloom" Certificates.

The blooms exhibited in their different classes, colours and sizes.
PREMIER BLOMS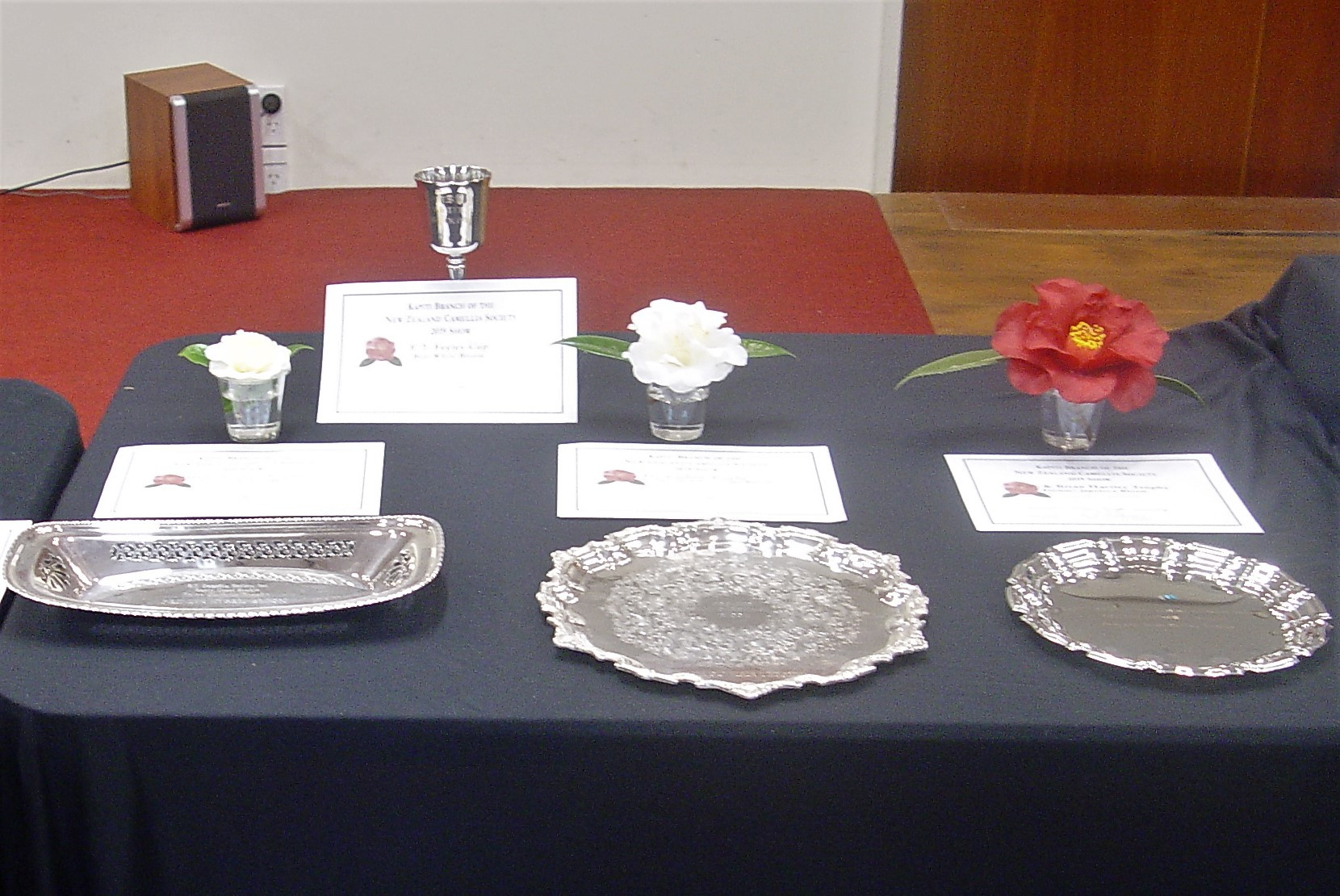 From the left, the three Premier Blooms, as well as Frank Houser Variegated, were also awarded trophies. They were won by Rosemary Shivnan with a Hybrid Jury's Yellow, John Clarke and Dale Williams with Specified Parentage Onetia Holland, Pam and Brian Hartley with a Japonica with Royal Velvet and with a fourth a Recticulata Frank Houser Variegated. From those four Premier Blooms, the Champion Bloom of the Show was selected. It was Pam and Brian's very good Frank Houser Variegated. It has taken many years for them to achieve that result.
Everyone is congratulated on their excellent results.
CHAMPION BLOOM OF THE SHOW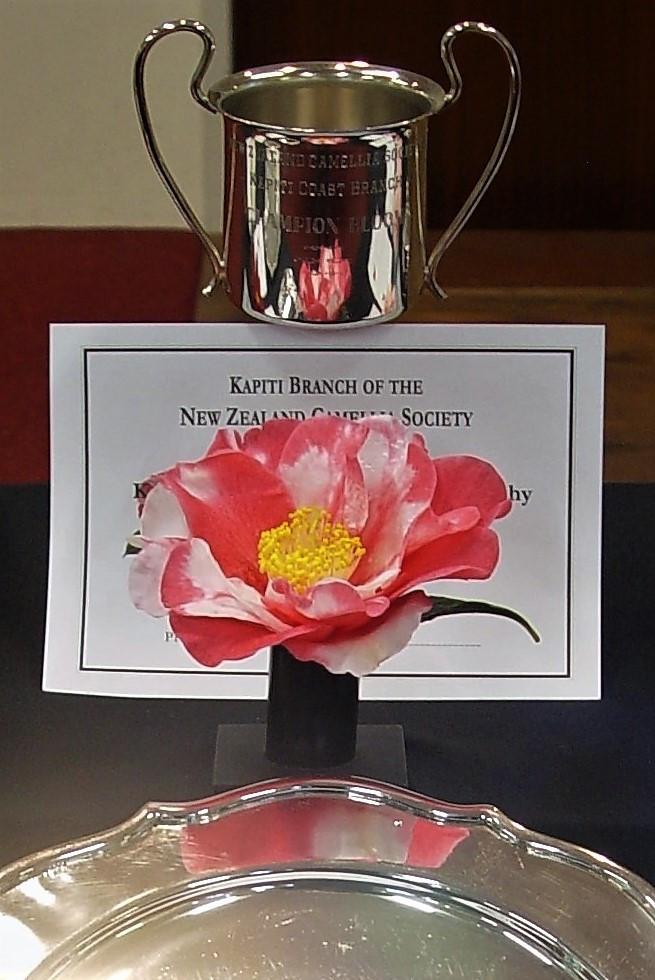 Pam and Brian's two trophies with the Champion Bloom, the confirmatory Certificate and the bloom (at the top), and part of the Premier Trophy (at the bottom)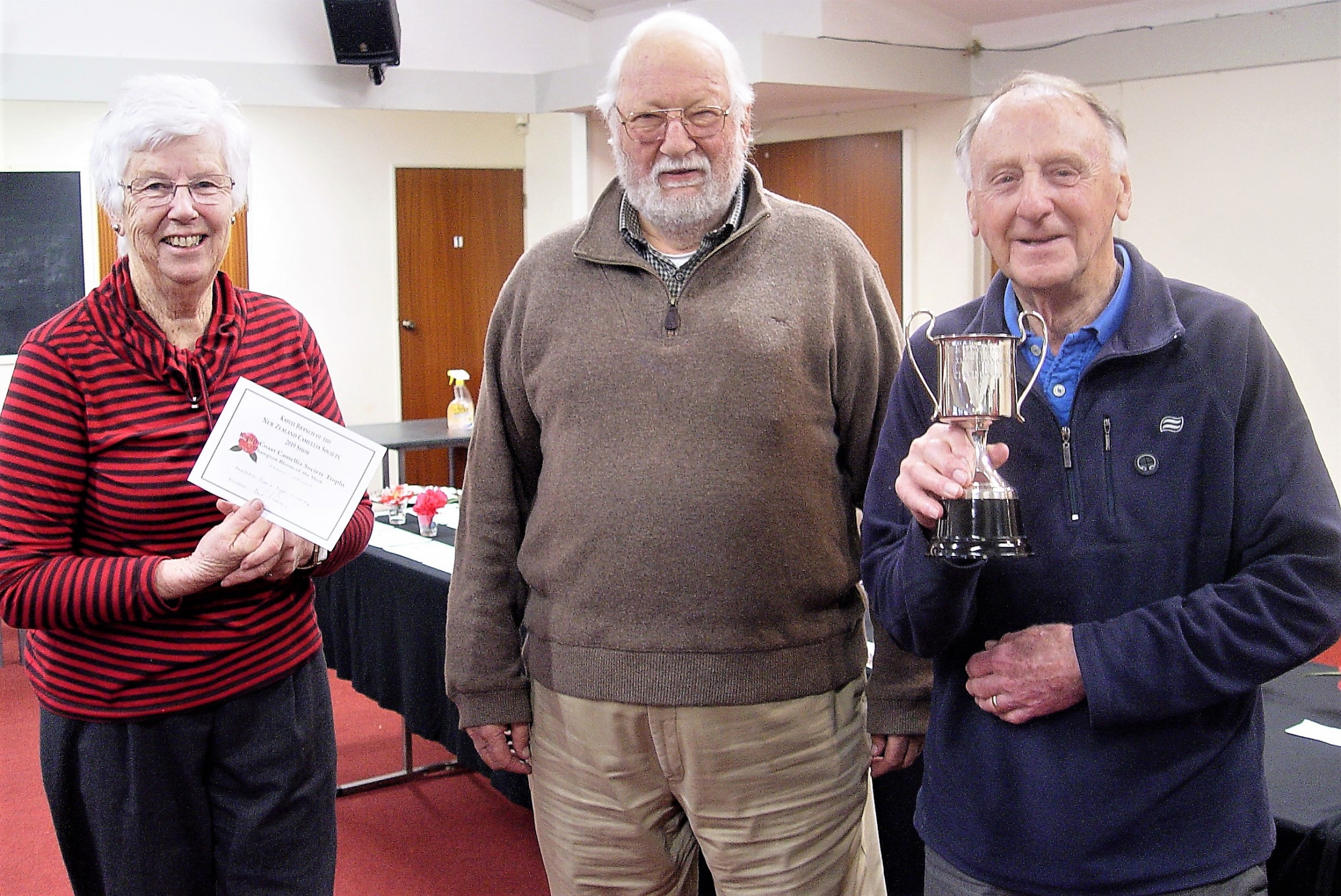 From the left Pam, Paul Bevan (Branch President) and Brian after they had been presented with the Champion Bloom of the Show Trophy and Certificate at the presentation ceremony during the show.
BEST BLOOMS
Pam and Brian also won a Trophy for the Best bloom of NZ Origin with a Japonica Takanini, an Honours Bloom Certificate with Sanpei-Tsubaki, a 2nd and 3rd in different classes.
Dale and John also won a Trophy for the Best White bloom with Onetia Holland, a 1st with Cinamon Cindy, and two 2nd's and 3rd's in different classes.
Rosemary also won three 1st's with Elegans Champayne, Dreamboat, and three different with Dream Boat, Nicky Crisp and Jury's Yellow, and two 2nd's and two 3rd's in different classes
Robyn Dineen won a Trophy with a small bloom Snippet and a 2nd in a different class
Everyone is congratulated on achieving those excellent results
BEST NOVICE BLOOM OF THE SHOWOVICE BLOOM
The Best Novice Class Bloom was won by Geoff Osgood with an outstanding Japonica Pink Bloom, Nuccio's Pink Lace. He is congratulated on achieving that result.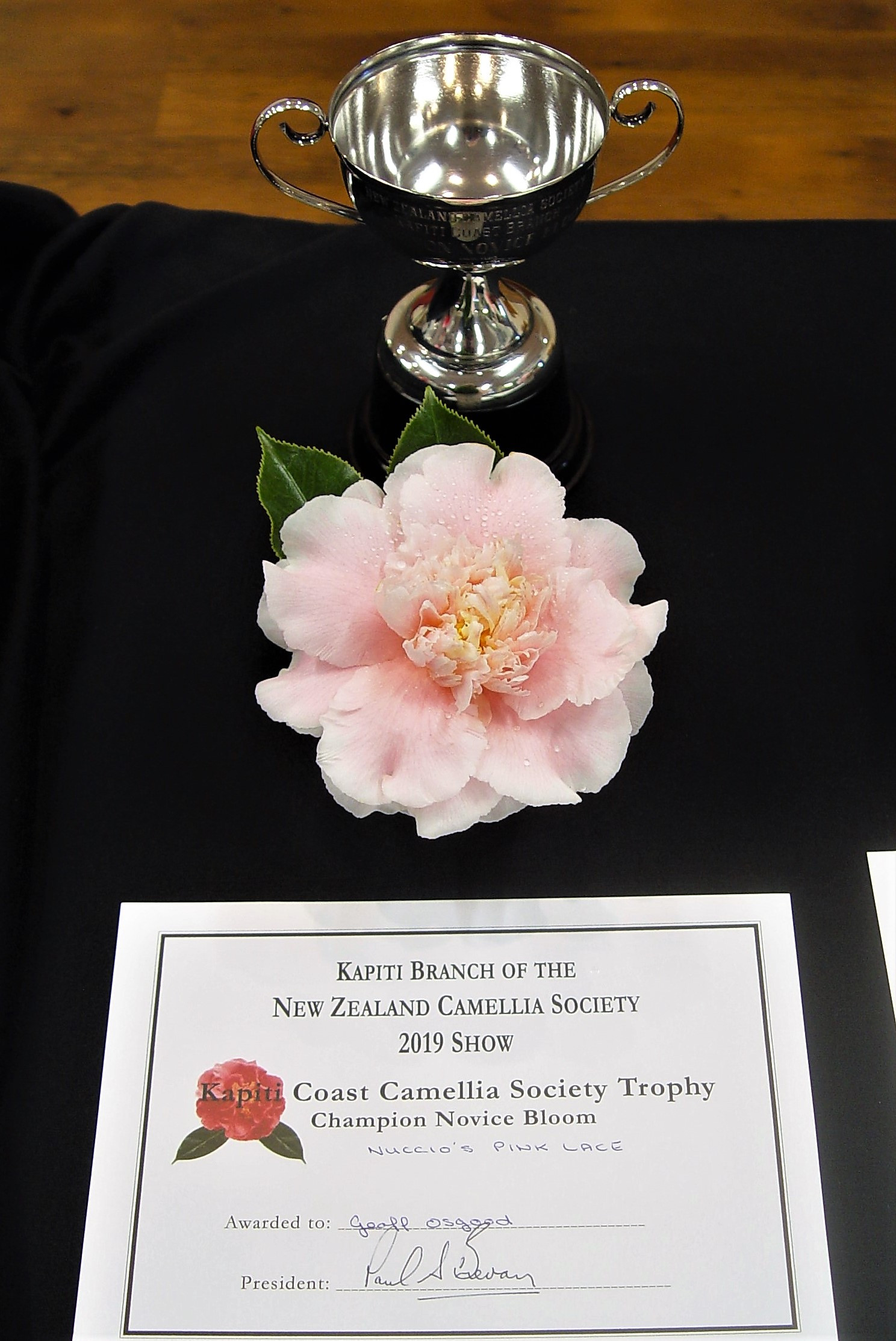 In addition, Geoff also won the Best of Three Blooms, and he is congratulated on that excellent result
It was from those four blooms that the Best Novice Bloom was selected. From the left, The Champion Novice Bloom Nuccio's Pink Lace won by Geoff Osgood, the Best Pink Bloom also Nuccio's Pink Lace by Geoff Osgood, the Best White Bloom Brushfield's Yellow by Lis Cottam, and the Best Red bloom Nick Carter by Shane Carter.
Liz also won two 2nd's and a 3rd in different classes
All are congratulated on achieving those excellent results
JUNIOR CLASS
This class was for a photograph of one of more Camellias and was designed to appeal to School Children between the ages of 6 to 16 years.
The winning photograph was taken by a local 12-year-old girl
Our congratulations go to the winner for an excellent and well-thought-through design and photograph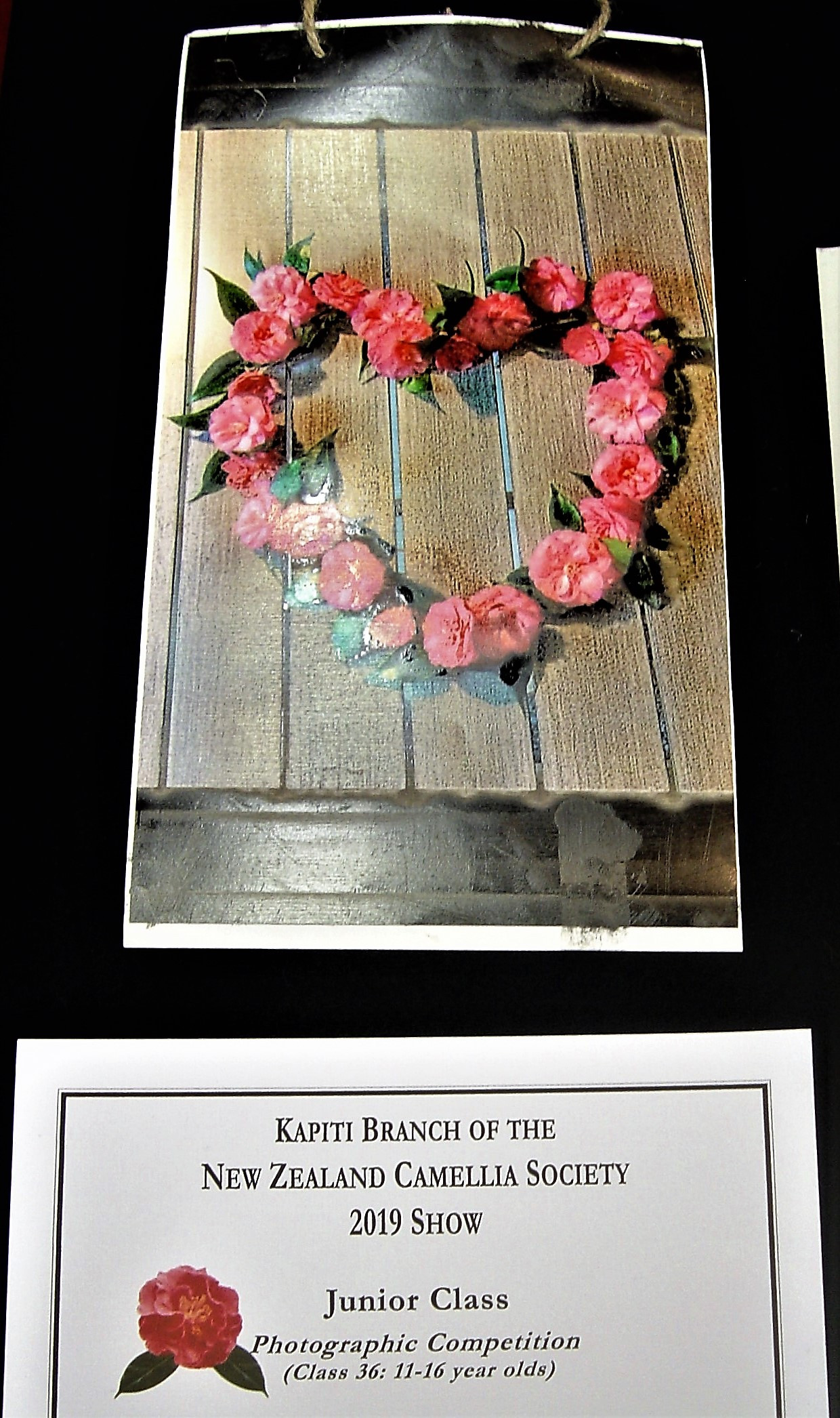 NATIONAL CAMELLIA SHOW WHANGANUI
24 AUGUST 2019
A very successful show with four of our members winning trophies and three others with a variety of places in their classes.
Magaret Monks won the Best Novice Bloom with an outstanding Sweet Emily Kate.
In the Open Class, Brian and Pam Hartley won two trophies for the best bloom of NZ Origin with a very good Peggy Burton, and the best Doak Hybrid with Brian. And a Certificate for the best bloom bred by Neville Haydon (a former Patron, breeder of camellias and a long-standing member of both the Society and Auckland Branch) also with Peggy Burton, as well as another 1st, 2nd, and 3rd in different classes.
They are congratulated for achieving those excellent results.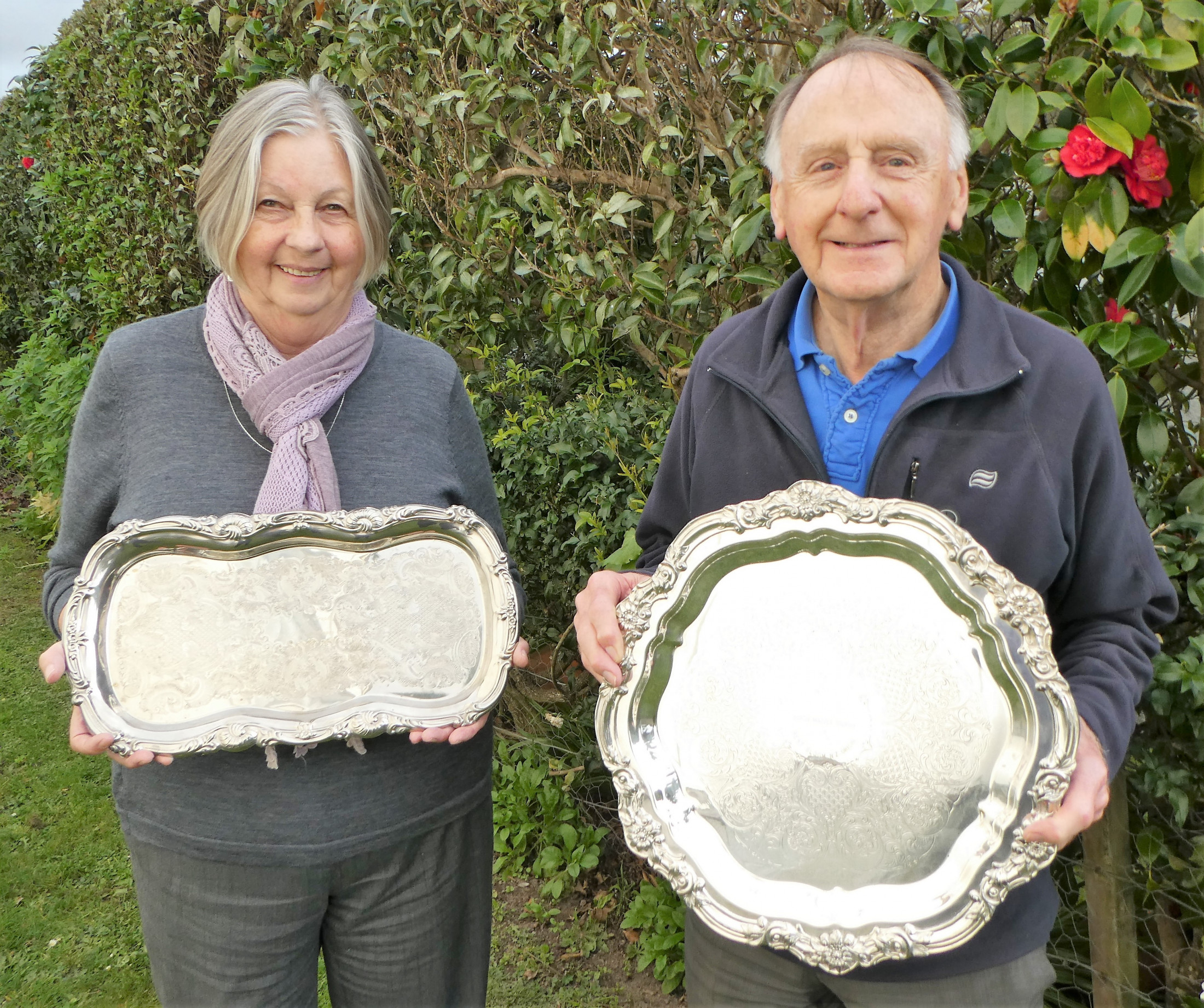 Margaret showing the Best Novice Bloom Trophy and Brian the best bloom of NZ Origin Trophy
Our best result overall was by Rodger Aitchinson who won two trophies for the three best Hybrid blooms of the same variety with Peggy Burton, and for the best Retctiulata Yunan Bloom with Chrysanthemum Petal, two Honours Bloom Certificates with Sport of Fasionata and Bella Romana along with another 1st and three 3rd's in different classes.
Rodger is congratulated on achieving those excellent results.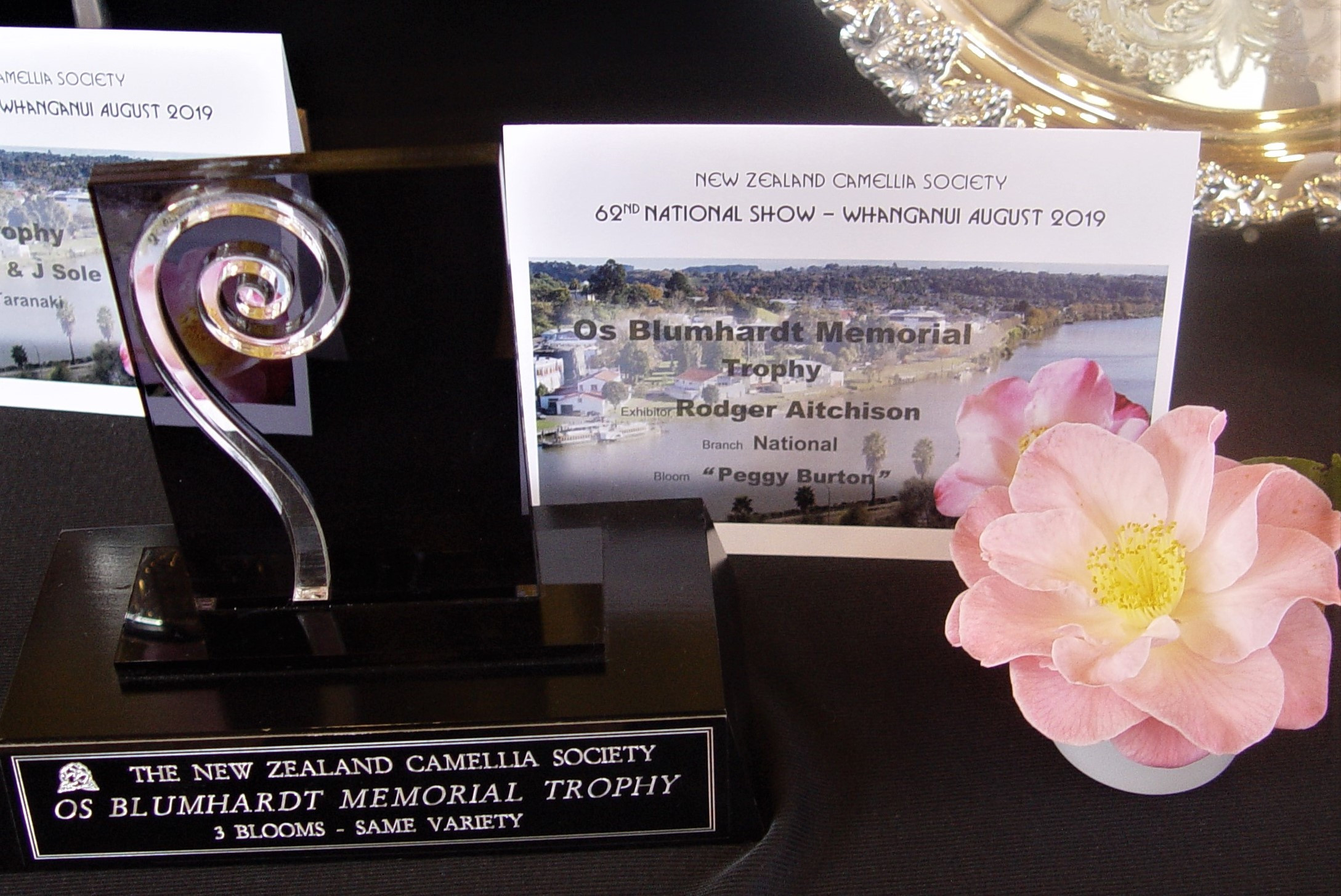 One of Rodger's trophies, Certificate, and Peggy Burton
John Clarke and Dale Williams won three 2nd places and a third, and Paul and Mary Bevan a 3rd.
Lesley Gillespie entered 38 blooms in the Novice classes and won three 1st places, four 2nd, a 3rd, and an Honours Bloom Certificate with S.P.Dunn.
All are congratulated on achieving those very good results.