Kapiti Branch
President
Paul Bevan
2 Rata Street, Waikanae 5036
Ph 04 293 3555
Email [email protected]

Secretary Lesley Gillespie
39 Kohekohe Road
Waikanae 5036
ph 021 960 294
Email [email protected]
2019 BRANCH PROGRAMME
I

NTRODUCTION
All Branch meetings will be on Monday afternoons at 2.00 pm at the Presbyterian Church, 43 Ngaio Road, Waikanae unless otherwise stated. For those at Ngaio Road, in-house matters will be dealt with first followed by tea or coffee (gold coin donation appreciated) usually around 2.30 pm. Our guest speaker should commence by 3.00 pm and be finished by 4.00 pm.
Each meeting will have in-house Camellia competitions of any variety.. Non-members are cordially invited to bring your blooms of any variety from your garden in the colours of white, pink, red, and variegated, and three of the same or three different blooms, and enter them in the Novice Class between 1.30 pm and 2.00 pm. Names are not required but name if you can. A member will be available to assist you. The Classes will be judged and 1st, 2nd, and 3rd places awarded.
If you are not able to bring any blooms, you will still be made very welcome to any of our branch meetings. You will see from the speakers a wide range of subjects is covered. If you have any questions about camellias or other plants bring them along with you. There will also be a sales table and a raffle at each meeting.
PROGRAMME
Sunday March 3rd
Summer garden visit and afternoon tea at the home of Paul and Mary Bevan,
2 Rata Street, Waikanae
2 pm to 4 pm
Bring your favourite rose, which will be judged

Monday Apri1 1st
Guest Speakers: Beverley Gatfield and Margaret Haywood, "Propagation and pruning miniature roses". In-house competition: Camellias any variety

Monday July 1 Guest speaker: Pam Sinclair, "Towards a p[redator free Kapiti". In-house competition; Camellias any variety"
Monday August 5 2019 Branch Show issues, hints and roles. In-house competition: Camellias any variety
Saturday August 17 2019 Kapiti Annual Camellia Show - see below
Friday 23 - Monday 26 August 2019 National Show and Convention, Whanganui - view National Show web page
Monday September 2 Guest speaker: Pam Stapleton, "Waikanae Estuary Care Group; Past, Present and Future"
In-house competition: Camellia any variety
Monday October 7 Guest Speaker: Glenis Day, "Creating a Spring posy". In-house competition: Camellias any variety
Monday November 11 Day coach trip to visit gardens and other appropriate venues - details to follow
Monday December 2 Annual General Meeting and Christmas Social Plateau Centre, Woodlands, Parkwood Retirement Village, Waikanae
2019 KAPITI ANNUAL CAMELLIA SHOW
SATURDAY 17 AUGUST
WAIKANAE COMMUNITY CENTRE
28 Utauta Street just north of the Memorial Hall (formerly known as the Senior Citizen's Hall)
This show will provide the opportunity for everyone to exhibit and view a wide range of camellia blooms in their differing colours, shapes, sizes and species. They will be a sea of colour with all the winning blooms displayed in all their glory on the Top Table.
There will be a Novice class with a range of different coloured blooms in singles and groups of three, and two Junior classes for children between 5 to 10 years and 11 to 16 years who are encouraged to exhibit a colour photograph with one or more Camellias up to A5 in size. They will be judged and there will be a prize for the top winners.
FRIDAY 16 AUGUST
On Friday between 3.00 pm and 7.00 pm, everyone is encouraged to bring their Camellias from their garden and enter them in the appropriate class, either the Novice of Open Class. All the Novice Classes are in colours of White, Pink and Red, and Variegated, and Three of the Same and Three different colours. And between the same times, children enter their photographs in the appropriate Junior Class.
A schedule of the Novice and Junior classes will be available at the venue so you will know which class(es) to enter. A Steward will be available to assist. You are not required to name your blooms, but name if you can. The top three blooms and photographs will be awarded 1st, 2nd, and 3rd places. The best bloom in the Novice class will win the Champion Novice Bloom of the show along with a Trophy.
SATURDAY
The show will open at 12 midday and close at 4.00 pm. There will be some stalls including produce, plants, camellia products, along with a raffle.
Prize giving for the Champion Bloom of the Show and the Champion Novice Bloom and those Premier Bloom winners will be at 3.00 pm and the raffle draws at 3.15 pm.
The Champion, Premier an Honour's blooms will be displayed.on the Top Table. Those blooms will be the outstanding blooms of the show. Come along and have a look.
There is an entry fee of $2.00 per adult, children free.
The two 2018 Champion Blooms at our annual show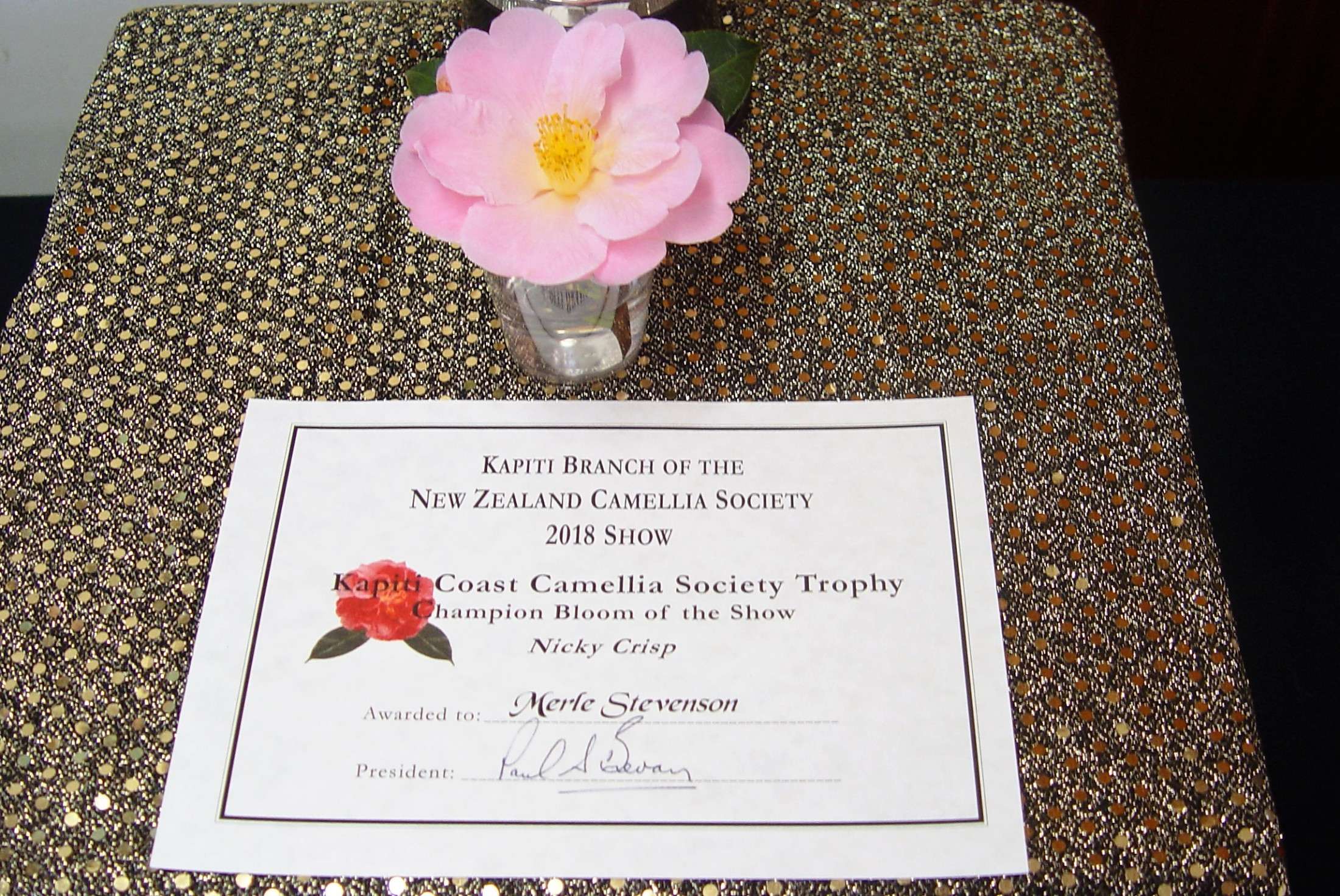 The Champion Novice Bloom was a Pink bloom Nicky Crisp by Merle Stevenson.
The Champion Novice Bloom of the Show was an outstanding Red bloom Crimson Red King n by Margaret Monks.