Reticulata Frank Houser Variegated
K

apiti Branch Waikanae
Branch Executive
Branch President
Lesley Gillespie
39 Kohekohe Road, Waikanae 5036
Ph: 021960294
Email: [email protected]
Secretary
Margaret Monks
35 Horopito Road, WAIKANAE 5036
Ph: 04 902 4797
Email: [email protected]
Branch Programme
Introduction
All Branch meetings will be on Monday afternoons at 2.00 pm at the Presbyterian Church, 43 Ngaio Road, Waikanae unless otherwise stated. For those at Ngaio Road, in-house matters will be dealt with first followed by tea or coffee (gold coin donation appreciated) usually around 2.30 pm. Our guest speaker should commence by 3.00 pm and be finished by 4.00 pm.
Each meeting will have in-house Camellia competitions of any variety. Non-members are cordially invited to bring your blooms of any variety from your garden in the colours of white, pink, red, and variegated, and three of the same or three different blooms, and enter them in the Novice Class between 1.30 pm and 1.55 pm. Names are not required but name if you can. A member will be available to assist you. The Classes will be judged and 1st, 2nd, and 3rd places awarded.
If you are not able to bring any blooms, you will still be made very welcome to any of our branch meetings. You will see from the speakers a wide range of subjects is covered. If you have any questions about camellias or other plants bring them along with you. There will also be a sales table and a raffle at each meeting.
Now that we are in level 1 with Covid-19 the Branch continues with its meetings, and for the remainder of 2020 they are -
October 6 Guest speaker: Michael King, "Foraging on the Kapiti Coast" https:/finderseatersforaing.com/ In-house competition: Camellias any species
November 9 Outing: Sevenoaks Retirement Village guided garden walk with Kevin Pritchard, Chief Groundsman. Followed by afternoon tea.
December 7 Annual General Meeting, 6.30 pm for 7.00 pm, Parkwood Retirement Village, Waikanae
2019 KAPITI'S BRANCH ANNUAL SHOW
SATURDAY 17 AUGUST
WAIKANAE COMMUNITY CENTRE
The
show was held on a very Saturday afternoon from 12.30 pm to 3.45 pm. Notwithstanding the rain a large number of our members and members of the public attended. There were many outstanding blooms exhibited by those who entered both in the Novice and Open Classes in their differing colours, shapes, sizes and species. They looked spectacular and presented a sea of colour.
All of the 260 blooms were judged in the morning with awards going to the top blooms in each class along with the Premier Blooms from which the Champion Bloom of the show and the Best Novice Class were awarded. Those very good blooms that did not make the top table were awarded "Honour's Bloom" Certificates.

The blooms exhibited in their different classes, colours and sizes.
PREMIER BLOOMS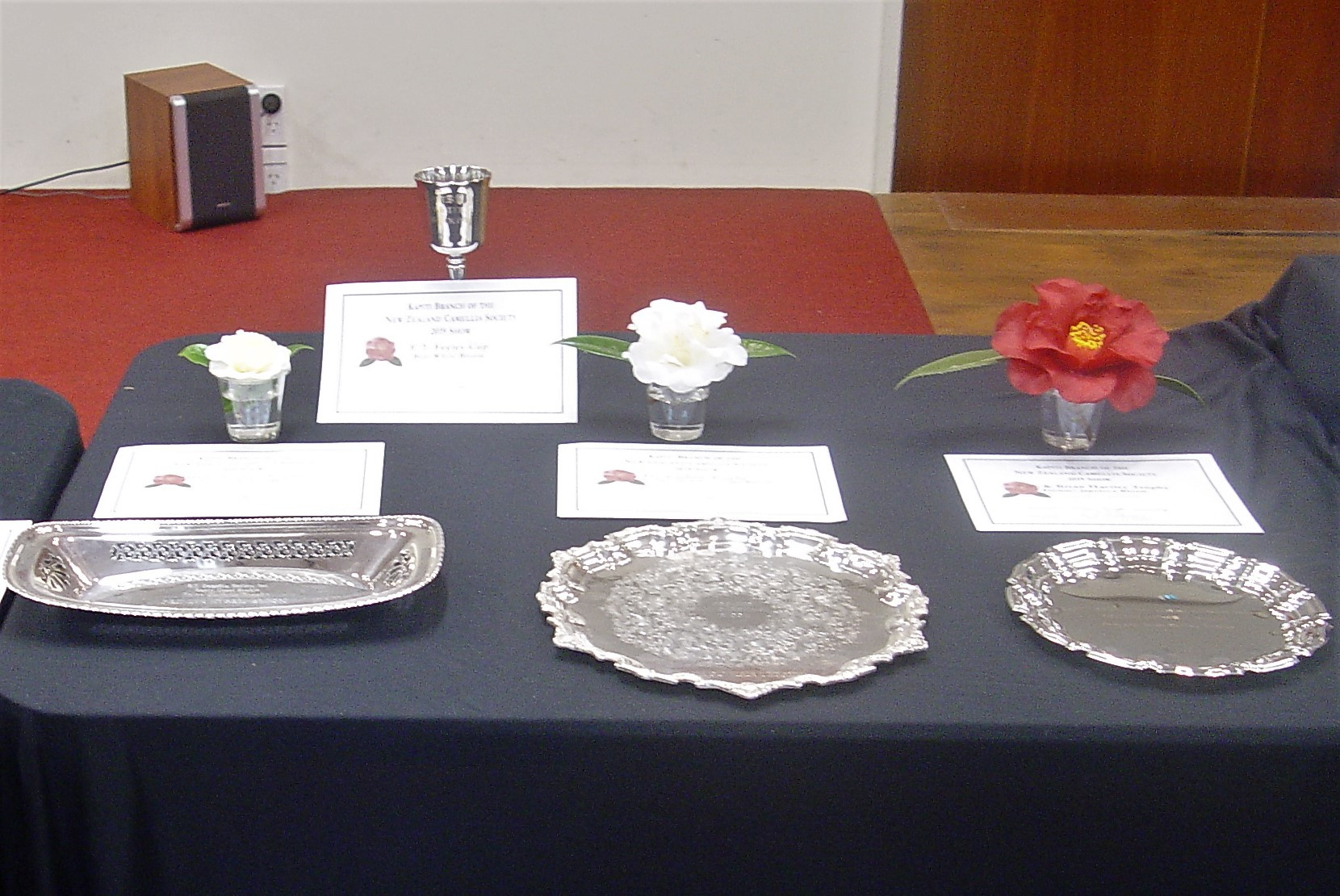 From the left, the three Premier Blooms, as well as Frank Houser Variegated, were also awarded trophies. They were won by Rosemary Shivnan with a Hybrid Jury's Yellow, John Clarke and Dale Williams with Specified Parentage Onetia Holland, Pam and Brian Hartley with a Japonica with Royal Velvet and with a fourth a Recticulata Frank Houser Variegated. From those four Premier Blooms, the Champion Bloom of the Show was selected. It was Pam and Brian's very good Frank Houser Variegated. It has taken many years for them to achieve that result.
Everyone is congratulated on their excellent results.
CHAMPION BLOOM OF THE SHOW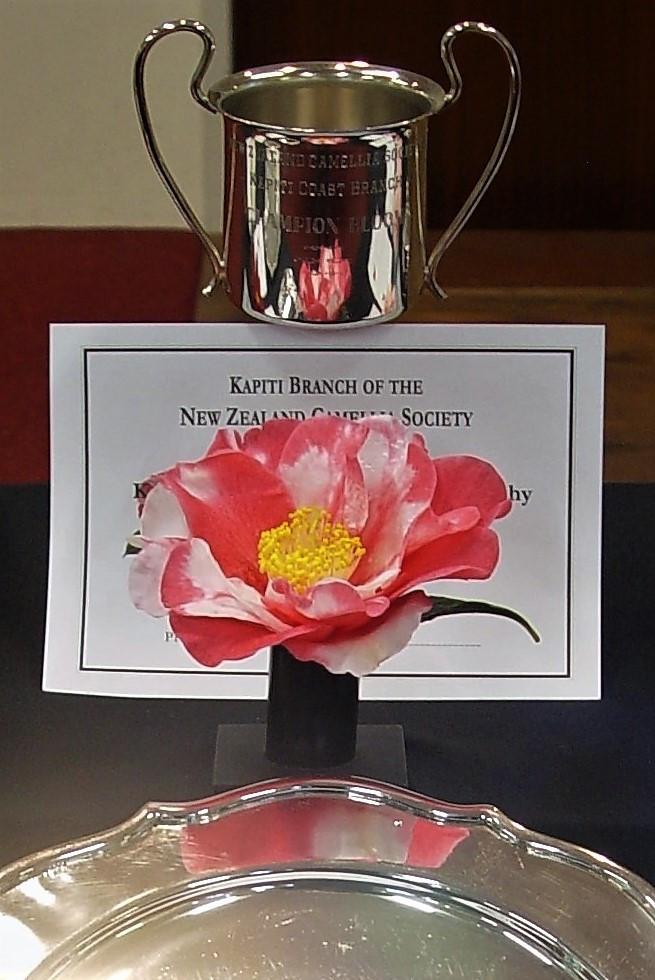 Pam and Brian's two trophies with the Champion Bloom, the confirmatory Certificate and the bloom (at the top), and part of the Premier Trophy (at the bottom)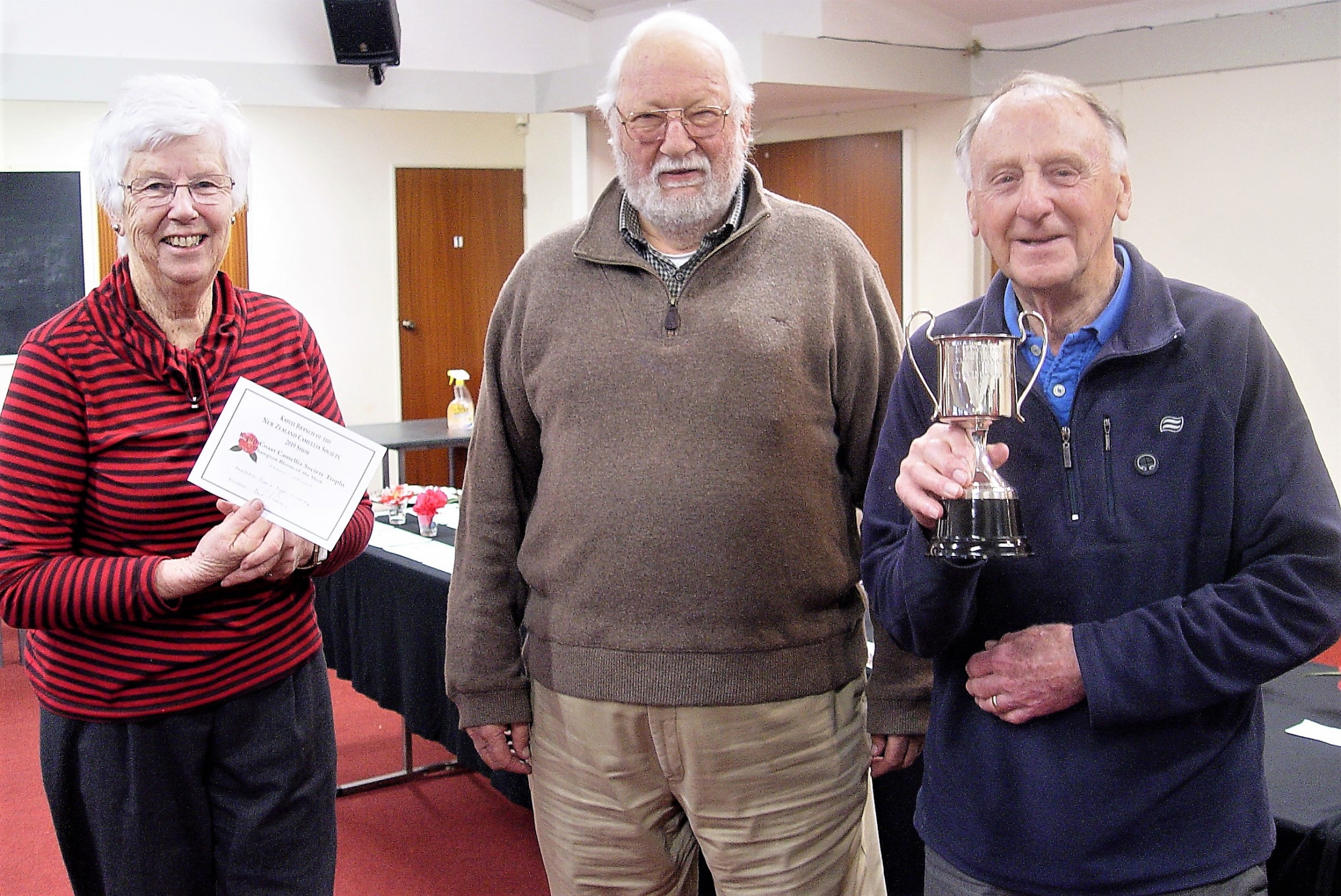 From the left Pam, Paul Bevan (Branch President) and Brian after they had been presented with the Champion Bloom of the Show Trophy and Certificate at the presentation ceremony during the show.
BEST BLOOMS
Pam and Brian also won a Trophy for the Best bloom of NZ Origin with a Japonica Takanini, an Honours Bloom Certificate with Sanpei-Tsubaki, a 2nd and 3rd in different classes.
Dale and John also won a Trophy for the Best White bloom with Onetia Holland, a 1st with Cinamon Cindy, and two 2nd's and 3rd's in different classes.
Rosemary also won three 1st's with Elegans Champayne, Dreamboat, and three different with Dream Boat, Nicky Crisp and Jury's Yellow, and two 2nd's and two 3rd's in different classes
Robyn Dineen won a Trophy with a small bloom Snippet and a 2nd in a different class
Everyone is congratulated on achieving those excellent results
BEST NOVICE BLOOM OF THE SHOW

O

VICE BLOOM
The Best Novice Class Bloom was won by Geoff Osgood with an outstanding Japonica Pink Bloom, Nuccio's Pink Lace. He is congratulated on achieving that result.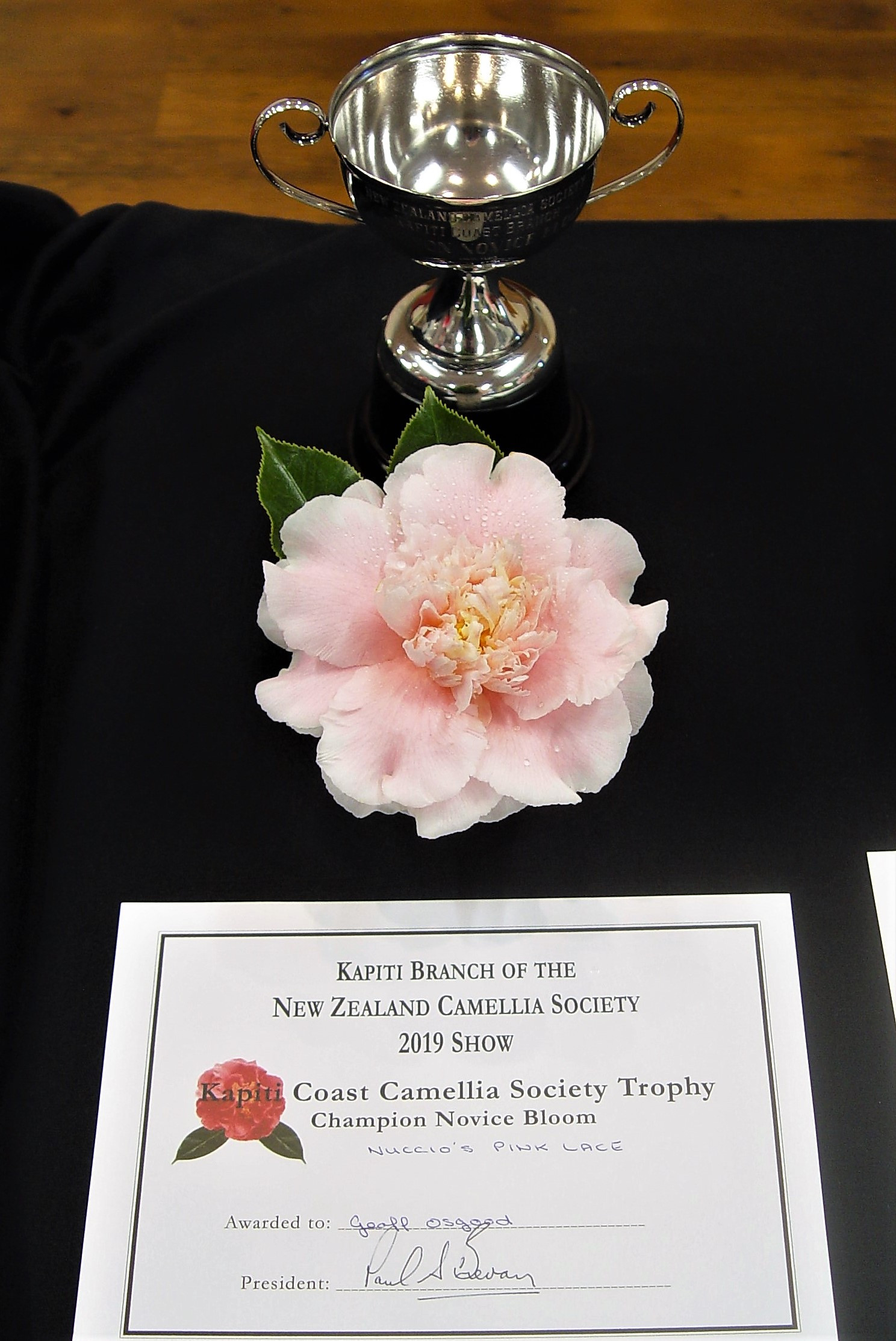 In addition, Geoff also won the Best of Three Blooms, and he is congratulated on that excellent result
It was from those four blooms that the Best Novice Bloom was selected. From the left, The Champion Novice Bloom Nuccio's Pink Lace won by Geoff Osgood, the Best Pink Bloom also Nuccio's Pink Lace by Geoff Osgood, the Best White Bloom Brushfield's Yellow by Lis Cottam, and the Best Red bloom Nick Carter by Shane Carter.
Liz also won two 2nd's and a 3rd in different classes
All are congratulated on achieving those excellent results